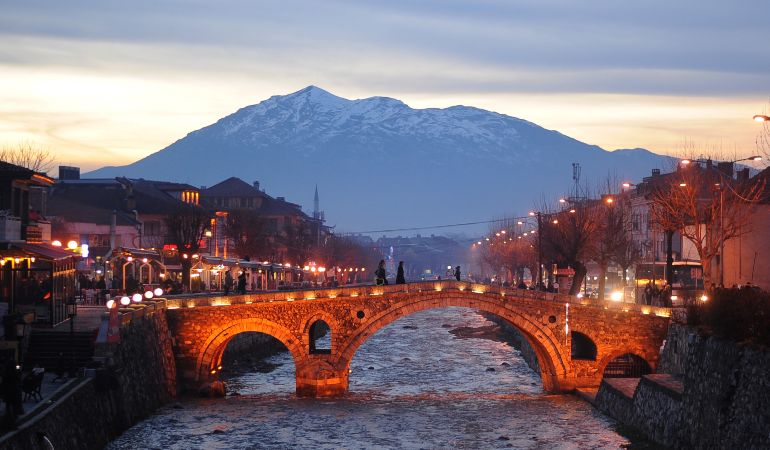 Capital City: Pristina
Population: 1.873 million
Official language: Albanian, Serbian
Commonly spoken languages: Albanian, Serbian, Bosnian, Turkish, Croatian, English
Currency: Euro
Exchange rate to pound: 0.86:1 (02/09/2021)
The Republic of Kosovo is a small partially recognised state. It lies at the centre of the Balkan peninsula and it is bordered by Montenegro, Serbia, North Macedonia, and Albania. Kosovo has a rich history and troubled past, but the young Balkan country has experienced steady economic growth in recent years. Moreover, Kosovo has a diverse population with perhaps even more diverse cultures and heritage.
Where to live in Kosovo
Exploring different destinations is exciting but making the actual decision of where to settle is not an easy job. Kosovo is a mainly mountainous land. The capital city of Kosovo is Pristina and it is also the largest city. It is, of course, where most job opportunities are concentred, but though a capital, Pristina is not very crowded, nor expensive. In fact, life in Kosovo, in general, is considered very affordable. English is widely spoken everywhere, especially by the younger generations. However, if you are a fan of nature, you would probably like to live closer to Kosovo's numerous national parks, most of which are populating the southern part of the country.
How to become a resident of Kosovo
You have been charmed by Kosovo, its rich history and its diverse population? Now you must be wondering what the next steps of becoming a resident are. The great news is that British nationals don't require a visa to enter. You simply need a valid passport and in addition, you might be asked to show documentary evidence specifying the reason for your stay. Upon your arrival, you will receive a 90-days entry stamp but wish you stay permanently, it can be renewed for longer stays. For short stays (up to 90 days), you should notify the nearest police station of where you are staying.
Now, if your intention is to permanently relocate to Kosovo, you will need to register with the Ministry of Internal Affairs and apply for a residence permit before the end of the allowed 90-days period. A small fee applies, depending on the reason for acquiring the permit. There are two options for residence permits available to UK nationals:
Temporary residence permit

Acquired through employment/business, education, marriage/family unification, tourism/entertainment, refuge. It is usually valid for 1 year with the possibility of extension.

Permanent residence permit

Acquired after 5 years of uninterrupted temporary permit or through marriage/family unification.
The set of documents you need to prepare when applying for a residence permit should include:
Valid passport
Police certificate
Health insurance
Document justifying the reason for your stay (employment contract, university acceptance letter, marriage certificate, etc.)
After living in Kosovo for at least 5 years without an interruption longer than 10 months, you can acquire Kosovar citizenship through naturalisation.
Working in Kosovo
Currently, Kosovo shows high unemployment rates with half of the young population of the country not working. Moreover, stats show that 9 out of 10 women don't hold a job. Even so, Kosovo is one of the few countries in Europe demonstrating a steady and constant positive growth of its economy. Kosovo offers numerous business opportunities that have significantly grown since the independence declaration. The sectors that hold the greatest potential for development are the electricity and the wine sector. Thus, if you are curious about the art of winemaking and you want to start your own wine business, Kosovo is a very suitable destination to do so. Also, another work possibility for English speakers is language teaching. There are sufficient job offers for English tutoring.
If you wish to work in Kosovo and be part of the progress of this still young country, you will need a work permit in addition to your temporary residence permit. You will also need to provide proof of insurance and accommodation. The work permit can be issued by the Ministry of Labour and Social Welfare for a limited period of time, however, it is eligible for renewal.
Transportation in Kosovo
Following the independence of Kosovo (2008), road infrastructure has significantly improved with the majority of investments going for the construction of motorways. There is a frequent bus connection from Pristina to other cities. It is the cheapest and most convenient means of transportation in Kosovo. Trainkos (the national railway company) operates on two routes. It is reliable but it can also be slow. The easiest way to get around is by car – it offers the most flexibility. Taxis are also available and reliable. However, cycling is not ideal as there are poor conditions for it. The only airport for air travellers is located in Pristina.
Driving your own car in Kosovo
Driving in Kosovo is possible using a UK driving permit but if you plan to stay longer you will need to apply for a local licence. You also need to be carrying your vehicle registration and ownership documents, as well as locally valid insurance. You can get one at the border or from the nearest town when entering Kosovo. Most routes are safe but there are still some landmines left from the 1999 conflict, so make sure to keep to the main roads. You will need to be careful during bad weather as it can worsen the condition of the roads.
Education in Kosovo
Kosovo's education system is well organised. Kids are enrolled in primary school at the age of 6. The next stage is the low secondary education which is entered at the age of 12 and lasts until most children are 15 years old. Education up until this stage is obligatory. It is also funded by the state and free of charge. If students decide to continue with their studies, they move on to high secondary schools which consist of both general and professional education. Schools in Kosovo aim to develop a wide range of skills and prepare students for higher education and/or vocational work. Moreover, some schools hold classes in the languages of minorities. Thus, there are classes held in Albanian, Serbian, Bosnian, Turkish, and Croatian. But don't worry, there are also schools that teach classes in English. One example is the British School of Kosovo, which offers education from 1st to 12th grade.
Being a student in Kosovo
If you are thinking of continuing your higher education in Kosovo, you could not have chosen a better time. Very recently, the government of the country announced that the tuition fees of public universities, both at Bachelor and Master level, will be free of charge starting from the 2021/2022 academic year! In addition to this attractive to any student news, acquiring a higher education degree in a country like Kosovo can be a fresh opportunity that would broaden your horizons and introduce you to exciting and diverse student life. There are various options available as students can choose from public and private universities and also, full-time and part-time enrollment. Generally, in order to learn more about qualifications and costs, students have to contact the university directly.
To acquire a student permit in Kosovo, you will need to pay a small fee and submit the following documents:
University acceptance letter
Document indicating financial stability to live and support yourself in the country
Healthcare in Kosovo
The level of Kosovo's health system is considered relatively low in comparison to most European countries. Hospitals are poorly funded and there is a shortage of specialised medical equipment and medicine. Moreover, staff lacks modern medical training. That, however, is mainly due to its troubled past. Changes in the health system made by the Serbian government lead to clashes of opinions and were partly what caused the 1998-99 war, which left hospitals and medical professionals suffering. Despite the many challenges, Kosovo has achieved a great deal of improvement, showing its potential for a brighter future.
Nowadays, the healthcare system is separated into three sectors: primary, secondary and tertiary. Additionally, home services are provided for people from vulnerable groups. In any case, when moving to Kosovo, make sure to have adequate health insurance. Keep in mind that EHIC and GHIC do not cover Kosovo, as the country is not an EU member. If you have a work permit, then you are entitled to the same health benefits as citizens of Kosovo. Still, a small payment in cash (€4) is required to obtain treatment.
Takeaways
You've decided that you are up to the challenge of moving abroad and your destination of choice is Kosovo? That is great! Though a very small country, Kosovo can offer a unique experience. Carrying the scars of a recent war, there are definitely some sectors that need improvement. However, Kosovo is moving forward to a better future and it has shown hard work to be considered a country with a high living standard.