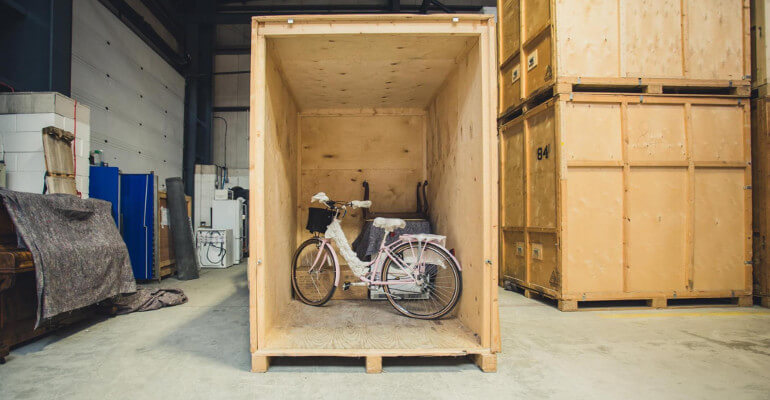 Image license:CC BY-SA 4.0 / Image Owner: Fantastic Removals
Fantastic Removals is a moving company, operating in London, popular with its variety of removals services. We have now expanded our portfolio of removals and storage services. They are available to anyone in London, without exceptions. Before calling us, make sure you read the rest of the information in this post.
Take a Look at the Dimensions of the Storage Containers
Before taking your belongings to a storage facility, make sure that they will fit inside the containers. Below, you can take a look at the photo where you can see the actual size of a wooden crate used in many storage facilities: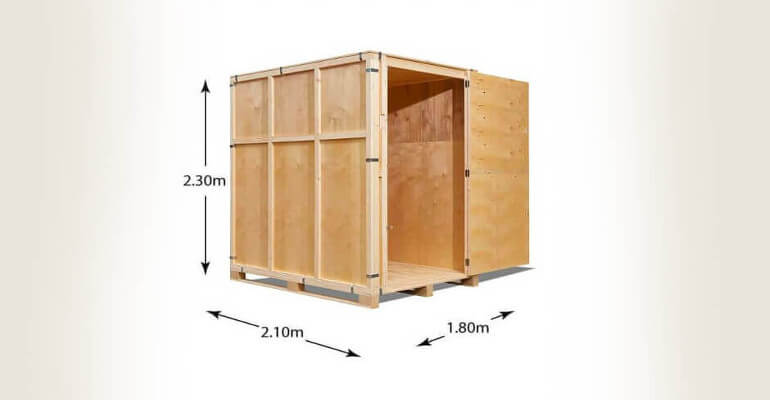 Image license:CC BY-SA 4.0 / Image Owner: Fantastic Removals
You can see that the total capacity of the storage container is about 8.7m³. One crate is enough for storing several pieces of kitchen or bedroom furniture. If disassembled, you can fit the furnishing of 1 bedroom property inside 1 or 2 of these containers.
Check also:
Storage in North London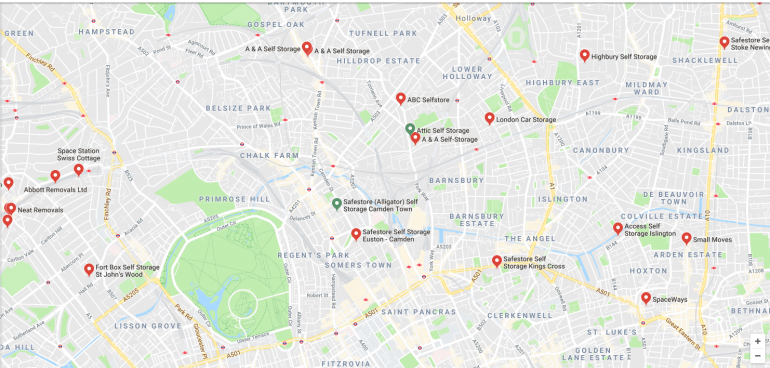 Click on the image to see it in full resolution
Fantastic Removals has expanded its coverage. We are now able to provide smooth removals and storage services in North London during workdays. Call us 24/7 for more information or to book your storage service. We'll prepare a storage container, especially for you. Movers will come at your address to pick your furniture and household items from the property.
We are available in all boroughs on the territory of North London. Our coverage includes the following areas:
Barnet
Camden
Enfield
Hackney
Haringey
Islington
Waltham Forest and Westminster
Storage in the North-West London area is easy to find when you go south-east from the Chalk Farm. At least 4 storage companies are operating north from the Regent's park.
You can also find a lot of opportunities for a storage service anywhere around Barnsbury. Look for companies around the Lower Holloway district in the Borough of Islington.
If your property is anywhere in the Borough of Hackney, you should travel south. There are a few storage facilities in North West London you can find when driving on the A107 road. They are located in close proximity to the road, so you should be able to see them.
Call Fantastic Removals to Assist
Enter your postcode to view our rates and availability in your area.
Storage in South London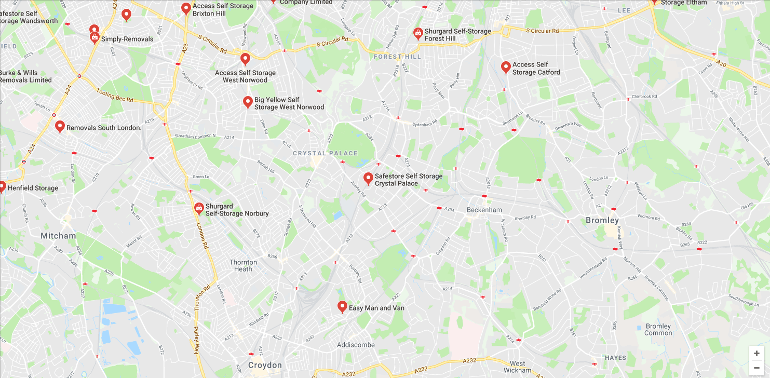 Click on the image to see it in full resolution
Students in the area who often look for a short-term storage in South East London can now easily hire a storage container.
The crates we offer have enough free space for whatever a student may possibly need to store for a few months. Most common items we store for students are desks, chairs, desktop computers and bookshelves.
We provide complete service coverage of all London boroughs in the south of M25:
Bexley
Bromley
Croydon
Greenwich
Kingston upon Thames
Lambeth
Lewisham
Merton, Richmond
Sutton
Southwark Wandsworth
If you live anywhere nearby Merton Park, you can find plenty of storage facilities east of the park. Most of them are located south of Colliers Wood. There are also plenty of transportation options to the storage facilities. We advise you to regularly check your storage if you have the option to do so.
Getting closer to the central parts of London, you will notice that Crystal Palace offers some convenient options for personal storage as well. There are at least 3 places where you can get a storage container for your stuff.
If transportation of your belongings is an issue, contact us. Our service is complete – it includes removals and storage in South London, which means that we will load and transport your household items to the storage facility and deliver them back to you at the end of the storage period. You won't have to deal with any transportation or loading when you hire us for the job.
Get Moving and Storage Services with Fantastic Removals
Enter your postcode to view our rates and availability in your area.
Storage in West London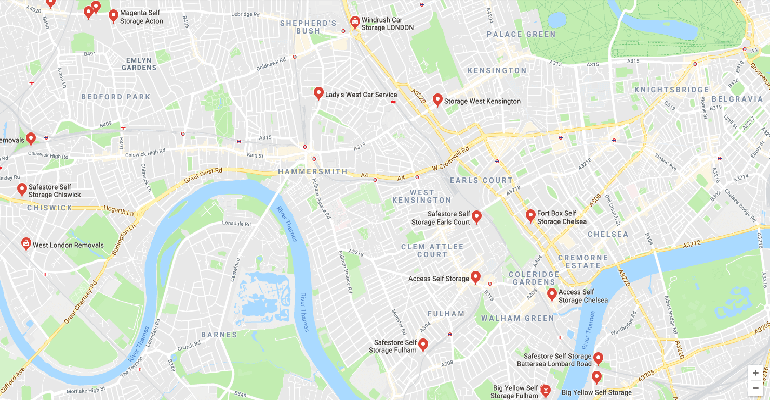 Click on the image to see it in full resolution
The container storage in West London that we offer is suitable for small and large families, guests in London, business clients and especially students.
Wonder what boroughs we cover? We are available anywhere in the M25 zone – this is the complete list of all areas we can get to in West London:
Brent
Ealing
Hammersmith and Fulham
Harrow
Hillingdon
Hounslow
Kensington
Chelsea
If you live in the Borough of Hounslow, you will not struggle to find a storage company. The Chiswick area provides about 4 unique opportunities for storage. If you don't find the conditions, prices, and availability good enough, don't worry. There are plenty of storage solutions to choose from. You won't even have to get any further than your neighbourhood.
There is a self-storage company in West London if you travel slightly to the west of North Kensington. Go there if you need a more personal service and prefer to manage the storage of your belongings by yourself.
In the west and north of Ealing, you can find more self-storage facilities if you're looking for more personalised options. However, at Fantastic Removals, we offer the extra convenience of doing everything for you from start to finish.
With our removals and storage in West London, you get all the work done by professionals, so you don't need to lift a finger. We come, load and transport your belongings to the storage facility. There, they will be safely stored until you call us and ask for their delivery.
If you are located in the Borough of Hammersmith and Fulham, our advice is to go to the Coleridge Gardens. There, you can find plenty of storage facilities to choose from. You can also take the A4 road and head westwards, where you'll be able to get help from local storage companies in West London.
Get Help from Us for Your Storage Needs
Enter your postcode to view our rates and availability in your area.
Storage Services in East London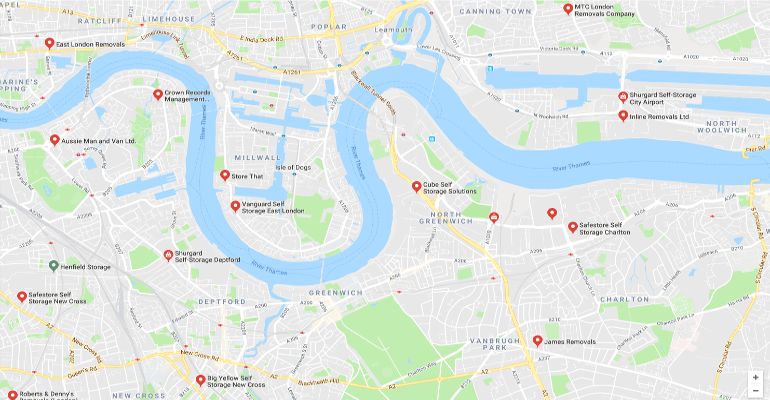 Click on the image to see it in full resolution
Located north of the Thames, East London is an area of our company's most loyal client base. So far, we've served many returning private and commercial customers there. Our portfolio of removals and storage services is available to anyone in East London, without exceptions.
The East London boroughs we serve include the following:
Barking and Dagenham
Havering
Newham
Redbridge
Tower Hamlets
Waltham Forest
Living in Tower Hamlets? Don't worry about storage availability. The Millwall district alone provides at least two storage service opportunities. Both are in the southern parts of Millwall.
In the east of Redbridge, you can find at least 3 storage companies that can assist you. Each of them will take care of your belongings whenever you need secure storage solutions. You can reach them if you take the A12 road.
Call Fantastic Removals for Any Removals of Storage Job
Enter your postcode to view our rates and availability in your area.