Packing Boxes Delivery and High-Quality Packing Materials in London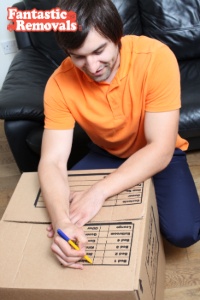 A good relocation starts with the right equipment. Moving and packing are one of the many services Fantastic Removals has to offer. You can book a packing boxes delivery for all of your London transfers.
With this service, you won't have to worry about a thing. Just contact us and we will take care of the rest. If you are wondering where to buy cardboard boxes, we can provide all the boxes needed for your move.
We can also deliver all packaging materials needed, as well as the packing itself at reasonable prices. The removals specialists have experience in packing almost everything – glasses, lamps, cutlery, fish tanks, antiques and fine arts, and thousands of other fragile items!
See how this convenience has aided our previous clients by reading Fantastic Removals' reviews now. Plus, when you use our packing and moving services for your home or office removals, you'll also benefit from:
24/7 customer service and client support;
Flexible and efficient booking system;
A free quotation for any packing boxes delivery, packing, or moving services upon request;
Full insurance cover across the board;
Great value for money and high-quality services;
A team of professional movers and packers who've been in the business for over ten years!
More About the Packing Supplies and Strong Removal Boxes We Deliver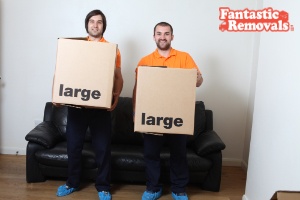 We always prefer to drop off the boxes you've ordered at least two days before your move is due to take place. It's easy to overlook some vital detail in the chaos that often accompanies moving house.
By making sure you've got a little leeway, you will have more time to react in case you've forgotten something. We highly recommend making a checklist in order to keep track of things. Feel free to use our moving checklist template as well. We're happy to deliver affordable packing boxes and other packing materials along with the house or office removals.
We Use High-Quality Packaging Materials for Removals
Cardboard removal boxes

– the moving boxes we use are thick, sturdy, and come in two distinct sizes. Our standard boxes are good for smaller items, such as books and files that might become too weighty if packaged in our larger containers. Our large boxes are great all-rounders, though no box should be loaded past a sensible 15-17 kilogram limit. If you do so, we'll need to be notified so that we can bring a trolley!

Bubble wrap and clear stretch wrap

– staples of the wrapping process, our giant-sized bubble wrap is ideal for protecting even the most fragile items. Try to resist the urge to pop it as it lessens its effectiveness!

Wardrobe cartons - if you've got items of clothing that need to be transported while still hanging, our wardrobe cartons are a great option. Each has a metal rail fitted inside from which clothes can neatly hang.
We can also help you with furniture collection and delivery, end of tenancy cleaning, storage services, and a lot more when it comes to your house move. Simply give our friendly team a call on the number below and we'll be glad to discuss your property needs for packing boxes delivery.
Schedule Our Movers and Packers Service in London Now, Including Packing Boxes Delivery!
Getting a little help with packing and unpacking couldn't be simpler! All you have to do is click on our easy-to-use free quote form and fill in your preferences for the service. A free quote will be calculated, after which you can book your packing and moving services directly. We also keep our phone lines open and fully staffed around the clock – that's 24 hours a day, every day – so you can call us on 020 3746 7798 at your convenience.
We're always happy to assist you when you need help setting up your service and will gladly answer your questions about our discounts and price rates. Feel free to ask for a no-cost, zero-obligation quote at any time.