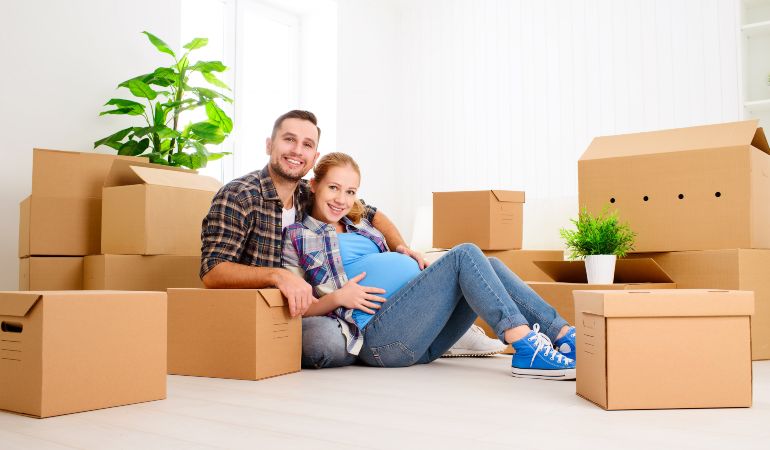 Relocation is always time-consuming and tiring. It's even worse when you're pregnant, because your mobility is limited; you have frequent doctor appointments and lifting heavy items is a big no. We asked the Fantastic Removals London Team for their tips on how to tackle these problems and make your moving day less stressful.

The pros and cons of moving when pregnant
Many mums and mums-to-be express their concern about moving during pregnancy. One of the most debated issues is whether to relocate before the baby comes or after giving birth. There are valid arguments in support of both sides and deciding on what to do depends primarily on your physical health and circumstances. So, is it better to move before or after the baby?
Advantages of moving house during pregnancy
You can leave the heavy lifting to someone else
You can order the baby furniture to be delivered directly to your new place and assembled on the spot
You will have time to declutter and throw away anything unnecessary
You don't have to find a nanny to look after your child while you're trying to decide how to arrange your belongings
You won't have to worry about moving while experiencing post-birth pain
You will have plenty of time to change your address, find a GP and research the quickest routes to the hospital
You can go house viewing without having to stress about finding someone to look after your child
You won't disturb your child's sleep patterns and eating habits. Setting your child's daily routine is crucial and any major changes, such as a house move can have a big impact on your baby's development
Read our posts on How to move house with children and How to move with a toddler.
Disadvantages of relocating before the baby arrives
You will have to pack extra bags: one with essential items for the day of the move and one hospital bag, in case the baby comes earlier than expected
It would be difficult to move about and you will have to find extra help for much of the removals process
Exhaustion and nausea will take their toll on your body, so you will need to plan in advance to take into account any delays
You will have to refrain from remodelling, painting and cleaning activities, because many of the ingredients in paints and detergents are harmful to your body and your baby
You will have to arrange your house move around your regular doctor appointments
You might find it difficult to register with a new GP, especially if you're moving during the third trimester. In some countries, doctors tend to turn away new patients whose due date is relatively close
The stress of relocation can affect your body and may increase the possibility of postnatal depression
How to move house during pregnancy
Time management is key in any house move, because it allows for a breathing space when an unexpected issue pops up or you suddenly need more time to fix and organize everything. However, if you've decided to relocate before the baby comes, then you also have to take into account the hormonal changes and their effect on your decision-making skills. That's why we've compiled a list with all the dos and don'ts for a stress-free relocation to help you fight the baby brain.
Things to avoid
If you want to be involved in every step of your house move, you need to know which tasks to undertake and which to assign to someone else. Health and safety should be your primary concern. So, before you decide on handling a more time-consuming or tiring job, consult with your personal physician.
Moving during the first and third trimester
A recent University of Washington study found a link between moving house during the first trimester and a heightened risk of premature birth, in addition to low birth weight and small body size. Some of the potential triggers for preterm delivery may include disruptions in health checks, increased levels of stress and physical exhaustion.
Luckily, changing your doctor at the last stages of pregnancy is not as difficult in the UK as it is in other parts of the world. As long as you have all of your antenatal appointments in order and the notes from your previous doctor, everything would be fine, regardless of where you do your check-ups. The easiest way to find a suitable GP is to search through the NHS Service Search.
Lifting heavy objects
Handling large and bulky items is out of the question. Even if your baby bump is not big, there are limits to how much you can physically train your body before you hurt yourself. What's more, the most common pregnancy injuries affect the same muscles and joints used when lifting and moving objects. These injuries include pubic symphysis dysfunction (SPD), back strain and dislocated vertebrae, sacroiliac joint issues and carpal tunnel pain.
Leave the heavy lifting to someone else, while you tackle smaller items. However, you need to ensure all of the people involved in the process know the proper and safe way of doing so. For more information on the subject, you can read our comprehensive guide on how to lift heavy objects.
Doing house cleaning chores or repainting jobs
Here is something else most people forget, being pregnant also limits your exposure to a wide variety of chemicals. Therefore, you need to be ready to make your own homemade concoctions, which do not contain ammonia and bleach and put in some elbow grease. Keep in mind to not exert yourself and take regular breaks. Alternatively, you can opt for the Fantastic end of tenancy cleaning service and we'll make sure your place is spotless before you relocate to your new home.
Unfortunately, painting the baby room or any other section of your home is also a task better left to someone else due to the prevalence of lead in old paintwork or the use of solvent-based paints. If there is no other option and you have to do the work yourself, the NHS advises avoiding painting during the first trimester and using water-based paint. Always wear protective gear and do not consume edibles in the same room that's being painted.
Tips and tricks
Now that you know which tasks to avoid, it's time to concentrate on all the ways you can help and not feel left out.
Stay hydrated and take timely breaks
As we mentioned above, regardless of what you do, health and safety should be your number one priority. So, don't forget to set regular reminders to drink plenty of water, have a snack or have a quick rest. If you schedule your breaks and meals throughout the day, it would be one less thing to worry about and you can focus your efforts on the remaining tasks at hand.
Start planning as early as possible
The key to a smooth and hassle-free move is to create a master plan with all the necessary tasks. Being pregnant only adds to the list of chores, but that doesn't mean a house move is impossible. It takes time and patience. That's why you'll have to start as soon as possible. One way to incorporate your antenatal care into the plan is to make a plan with all the medical appointments and parenting classes you attend and schedule the rest of your chores around them. Then, divide the tasks by category and start tackling them one by one.
Check for additional safety measures you can take to avoid injuries
Sometimes there are unforeseen circumstances or obstacles around the house you need to overcome. For example, a dangerous flight of stairs to climb, a narrow passage between rooms to navigate through or an awkward object to move. Here are some of the ways you can prevent such issues:
Always have a blanket near you, in case you have to spend more time in a drafty area of the house. The blanket can also serve as a prop, if your back starts hurting and you need the support
Get wrist braces and a back support belt to limit physical damage
Wear comfortable shoes, which help with any balance issues
Postpone Getting the Baby Furniture
You may be tempted to start decorating and arranging the new baby room right away. However, there's nothing more annoying than buying something you really like, only to find out that you have to sell it because it doesn't fit.
Moving before the baby comes allows you to see how much free space you have available for the extra furniture and save some money by purchasing only what's necessary. It also significantly lowers the amount of boxes and furniture you have to move. The number of boxes and items is usually taken into account as a pricing factor by removals companies. Instead of moving more items, you can order the baby furniture straight to your new place and just add furniture collection and assembly as additional services.
Register With A New GP
Regular medical appointments are an important part of antenatal care. Finding a new personal physician or a midwife is not difficult. Once you've signed up your new permanent address and registered with a new GP, make sure you tell your current doctor you are moving away, so a file with all of the relevant information regarding your pregnancy can be prepared. Then, you just bring the file to your next appointment with your new doctor.
If you're attending pregnancy classes, you may need to check whether you can transfer mid-course to a similar class in a different area. Usually, this shouldn't be a problem, however, keep in mind that parenting classes can vary widely in terms of curriculum.
Explore Your New Neighbourhood
There are so many benefits of getting to know the area surrounding your new home before the baby comes:
Locating the closest surgery
Making new friends
Joining a mummy group
Selecting your child's nursery
Picking your new favourite places to eat and shop
The biggest advantage is that you'll have time to settle and research the quickest routes to the hospital. If you regularly go out and practice travelling these paths, you'll establish a routine, which will make it easier and less stressful afterwards. These regular walks can be a nice addition to the recommended daily exercises.
Get help From friends and family members
Remember your pregnancy announcement? Everyone was so happy and offered to help you in any way possible. Well, now is the time to call your family and your friends and ask for their support. You may have to persuade them with food and drinks, but that's a small price to pay when there are so many things to sort, pack and lift.
Declutter, organize and label
Not being able to handle heavy and bulky items doesn't mean there is no way you can participate in the removals process. You can organize a garage sale or an online giveaway to get rid of all the unwanted items in your home. Decluttering before the baby comes is a great way to make more room for the new furniture and toys.
When you manage to sort through all the mess, it's time to organize and label. You can divide your belongings into different categories. Most people divide them by room, so it's easier to label the boxes, sort them in the moving van and then arrange them afterwards.
Prepare your hospital bag
Anything can happen, so you will have to prepare a hospital bag to take along with the box of essentials. What's in each bag, you ask? Here is a short breakdown:
Hospital bag: Preparing one can be the same as if you're going on a week-long holiday. It includes all the items you might need during labour and afterwards, such as birth balls, socks, dressing gowns, shirts, hairbands, pillows, etc. In addition, you will have to pack one for your birth partner and another one for when your baby comes. Here is a full list of items you can take with you to the hospital.
Essentials box: As its name suggests, it holds everything you will need on the first day in your new house, such as toothbrushes, a change of clothes, snacks, pet food, etc. That way you won't have to rummage through the other boxes to find each individual item. Read our article about 10 must-know packing tips to avoid the most common mistakes and be better prepared.
Find a nanny or a pet sitter
If you have another child or a pet, you may have to seek the services of a nanny or a pet sitter. Having to organize and keep track of everything in your home relocation is already hard enough. Any distraction can cost you time and money. You may forget to pack something or worse, hurt yourself in the process. The fewer interruptions there are, the better.
Moving to another country while pregnant
Relocating to another country generally requires more research into the people, the culture, the administrative side of moving and purchasing/renting a property. If you're planning such a move before the baby arrives, you will have to further research whether you require medical insurance; if your child will be listed under your nationality; and what documents you must provide at the hospital. You may also need to look up storage solutions, if you decide to move back to your old house in a few years or don't want to move all of your belongings in one go.
Hire a professional
If you feel that the stress would be too much, call us and get the Fantastic removalists to help with your house move. There is no task too big for us and we can also help with box delivery, packing and furniture assembly. We also provide a video and onsite survey with a Fantastic representative, who can address all of your concerns and give you a more accurate quote within 24 hours of the viewing.