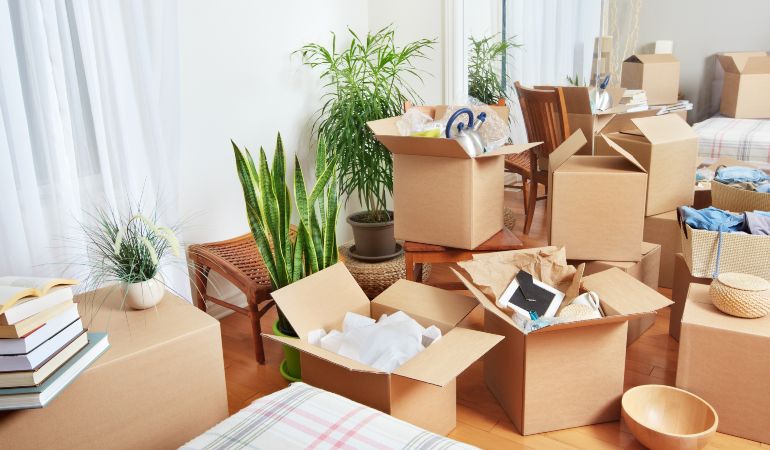 Moving house is hard enough with pets, but what happens if you have to transport domestic or garden plants?
When it comes to moving plants in a pot, or from a garden, there are a few very important things to consider. That is why we've decided to share these few tips as part of our moving advice articles.
Making the right preparations
The season
Make a list of all the plants you need to move and research when is their dormant period. The dormant period is the part of the plant cycle when they have died out. Different plants have different dormant seasons, but for the majority, we're talking between October and February.
The type of the soil
If you're moving to a different climate area, you better make sure your plants are able to grow in that soil as well. Otherwise, there's no need to move them.
The size of everything
If you have a few pots, you just have to find them a place in the van. But, if you're moving a whole garden, you need serious organisation. You need to find a place for each in the new place priorly and it's a good idea to spend at least a day in all the planning because it can be a lot.
How to move house plants long distance
When the designated moving day is here, and especially if your trip is going to be a long one, such as moving to Germany from the UK, you would have to prepare your plants well. Here is how to move houseplants across the country or even further.

Place plants in pots. If there will be a whole garden to move, you better arm yourself with all the pots you need and a spare at least a day on putting everything in comfortable pots, easy to be picked up and loaded.
Label all pots. Put a label on each with information about soil preference and where it would go in the new garden. This will make unloading and organising at the new garden a lot easier.
Designate a place in the van for each pot. Some plants need sunlight more than others and it's a good idea for you to know where to put each in order to make their trip comfortable.
Keep pots in a dry place for a week. A week before the moving day, your plants need to breathe some dry air. Plants usually make the indoor air moist, and it's not a good idea to leave packed cardboard boxes near them.
Spray the plants with water. On moving day it's better to spray them instead of watering. This is only done in a dry climate. See below what to do in heat and frost.
Put the plants in a newspaper for protection.
Book Fantastic Removals for a Quick Relocation
Enter your postcode to view our rates and availability in your area.
How to move house plants in hot weather
If you happen to move in the hottest months and can't afford to wait, you should know that your plants might suffer badly. Especially, if you take them out of a cooled house and into scorching heat. To make the temperature bearable for your plants during the removals, here's what you can do.

Place in the shade. The van will most probably be closed, but if there is sunlight going through, you better make sure it doesn't come fall on your plants. A few hours of darkness will not be bad for them, but the heat can do a lot more damage.
Water in short periods. If you're moving together with your luggage, and if you're not in a hurry, you can find the time to stop and water your plants every two hours.
Add a layer of mulch. The good side of mulching is not only giving nutrients to your plants but also containing the moisture for a longer period of time. This way it can keep the plants cooler.
Place water granules in the pots. If you're not able to stop and water your plants, you can use water granules. They would soak up excess water, but also slowly release it back into the soil.
How to move house plants in cold weather
Moving in cold weather is another extreme your plants need to be protected from. Learn here what you can do to protect them from frostbite and other bad effects.

Place near a window. If the van has windows, where the plant is placed, you can go ahead and put it there. Even if it's cold if the sun is out, it can warm it up.
Add a layer of mulch. Mulch does not only keep moisture for a longer period but also acts as an insulator, holding in heat in the soil.
Cover your plants. Throw a blanket, drop cloth, or tarp over your plants. Make sure it's not nylon or plastic sheets, as those also keep the oxygen out and your plant might suffocate. Make sure the blanket does not touch any of the leaves.
Water your plants. Soil can trap heat inside, and it does it way better when wet. Also, your plants will need water. Of course, if the soil is frozen, you better not put more water in.
Use a heater. If possible, place a heater in the compartment of your plants. This one may prove to be more dangerous than helpful, so it might be a good idea for a person to stay there and watch it.