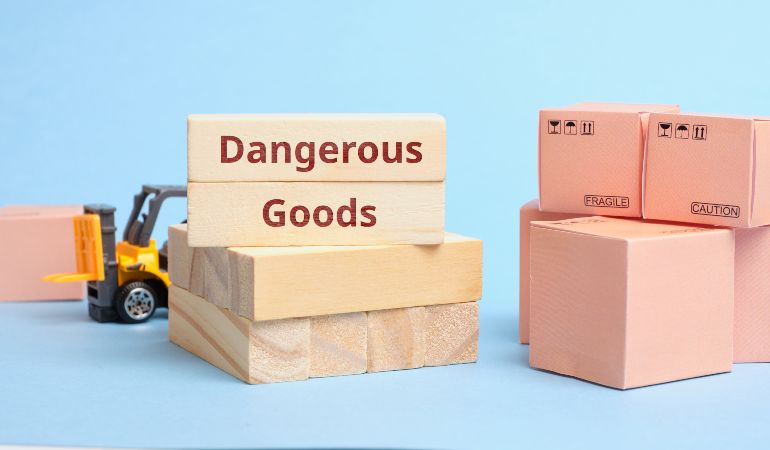 One of the things you need to give early consideration to when you're planning to move is which of your possessions will be considered to be dangerous goods. When you look at the regulations, you might be surprised, and maybe even dismayed. Things that you brought home from the DIY store or even the supermarket without a second thought may be considered a moving hazard.
Don't panic! As with much legislation, the transport of dangerous goods regulations are designed to cover all situations, including national and international haulage, road, sea, rail and air transportation. Your removals company should ensure that any transportation of dangerous goods involved in your move is completed safely and correctly. So as long as you're clear with them about what you need moved and follow their advice, your relocation should go smoothly.
Who needs to know how to move dangerous goods?
The main responsibility for moving dangerous goods safely lies with the professionals, that's removal and haulage companies. As an individual, you should have a degree of awareness about what sort of items count as hazardous goods if:
You're planning to move, especially abroad as international transportation may be more problematic than domestic
You want to take things that may be considered dangerous or hazardous
You're unfamiliar with moving regulations and safety requirements for moving dangerous goods
Common household items regarded as dangerous goods
The method of transport, starting and arrival points, quantities of the item in question, and in some cases local regulations will affect exactly what does or does not count as hazardous. Different companies will have different policies about what they will transport and how it should be packaged and labelled.
Items listed below are commonly found in households and may need to be regarded as dangerous goods:
Cleaning products
Bleach
Disinfectants
Dry cleaning solvents
Glass cleaners
Oven cleaner
Garden products
Pesticides
Herbicides
Ammonia
Insecticides
Fertilisers
Pool chemicals
Flammable items and explosion risks
Cigarette lighters, matches, firelighters, butane lighters
Batteries or electronic devices containing them
Any sort of compressed gas canister or aerosol cans
Miscellaneous items
Sharp, breakable or fragile items
Fire extinguishers
Adhesives
Paints and paint thinners
Airbag units for vehicles
Emergency flares
Self-inflating life jackets and rafts
Firearms or ammunition
Preparing for your move
Find a trustworthy removals company and seek their advice
The transportation of dangerous goods needs to be undertaken responsibly and correctly. The best way to make sure this happens is to choose a reputable and professional removals company. Booking your removals as soon as you have a confirmed date will maximise the time you have to plan things and minimise stress on the day.
Talk to your removals firm early on to find out what their policies are on different hazardous goods. There may be some things they cannot take, others which they can but which require specific packaging.
Hire Professional Packers & Movers
Enter your postcode to view our rates and availability in your area.
Reduce the load
Use up
There are certain items which you can use up before your move, cleaning products for instance. You don't really want to transport an open bottle of bleach halfway across the country. Having said this, if you do want to take reasonably small quantities of cleaning products most companies will allow this so long as they're properly packed and labelled.
Leave behind
Some things could be left behind for the new tenants or owners of your old property. There's no point in taking pool chemicals if you're moving from a house with a pool to one that doesn't. The new occupants will probably be grateful to have a starter supply. Check with the people who are moving in before leaving anything behind and make sure everything is labelled clearly.
Dispose of
Broken or outdated electronics, left-over paint, and past expiry date garden products are generally best thrown away. Just be sure to deal with them correctly. Your local council will be able to advise you on where to take things for safe disposal, in some instances they may even be able to arrange collection.
Pack and label everything
At the very least, your removals and storage company will be able to advise you on how different items should be prepared for transport. They'll probably be able to provide strong packing boxes and possibly preprinted labels for items requiring special handling. Some companies offer a packing service. If this is available it's well worth considering. You can be certain that everything will be correctly prepared and getting your removers to do your packing may even give you additional insurance coverage.
Moving day
The most important thing about moving day is to allow plenty of time to get things done. Stress or haste always increase the risk of accidents.
If your household includes young children or pets ensure they can be well supervised, or even removed from the worksite completely.
Let the professionals do their job. You'll need to be on hand to answer any queries, but unless you're requested to it's usually best not to get involved in the lifting or loading.
Important dos and don'ts when preparing dangerous goods for transport
Do:
Store hazardous materials in their original containers
If original containers aren't available make sure the packaging is appropriate for the item, waterproof for liquids, strong for breakable materials

Invest in boxes that are strong enough for the weight of items they will contain.

Label everything clearly, colour coding can be helpful to aid in identifying things that need careful handling
Make sure that fragile or sharp items are well packed and padded
Don't
Remove labels from containers or boxes of potentially dangerous items
Mix different liquids or materials in the same container

Invest in boxes that are strong enough for the weight of items they will contain.

Dispose of hazardous materials in general household waste, pour down drains or pour over the ground
Skimp on the packaging or reuse old or damaged boxes
Takeaways
As a householder planning a move you need to be aware of regulations on the transport of dangerous goods
Regulations differ according to the type of move and locations, research to find out what's relevant to you
Find a reputable company and work with them to make sure your goods are moved safely
Correct packing and labelling is central to a safe and efficient moving day
Tell us a moving story!
If you've moved home recently we'd love to hear from you. What's the one thing you did that you found most helpful? Or maybe there's something you didn't do but wish you had. Tell us about your experiences, the good and the bad.