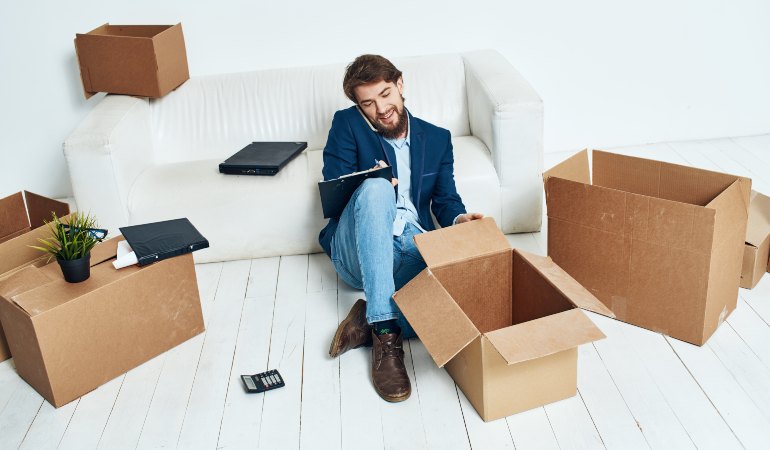 Choosing the right moving company can be a challenge.
There are lots of options out there. And if you don't know the right questions to ask, they can all start seeming much the same.
Here are the best questions to ask your moving company if you want to find the best fit for your needs:
What removal van sizes do you offer?
If you want to make your move as swift and smooth as possible, knowing that your moving company can transport the volume of items is pretty important. But there are other important aspects to consider about removal van sizes:
Do you have any large, long, or bulky items of furniture that have to fit inside the vehicle?
Are the streets the van will have to negotiate limited in size?
Will your moving company have a vehicle to match them?
Most removal firms have a small fleet of vehicles, so you'll probably have some options. But it's best to make your requirements when it comes to individual items, overall volume, and any narrow streets too, clear before you start asking about types of vehicle.
Are there any items you won't take?
Confirming your removal company will take all of the items you want to transport should be high on your list of questions to ask.
Because there are some items that a removal company can't or won't move. These are usually things that are outside of health and safety regulations or because those items are considered dangerous goods.
Common problem items include acids, corrosives, and anything that's flammable. But even some relatively innocuous things can fall afoul of these restrictions. Always check any list on your removal company's website before you book your service.
Is removals insurance included?
Accidents happen even with the safest and most reliable of movers. Make sure you're protected in the event that something unexpected goes wrong during the transport of your possessions.
Removals insurance should be a standard these days. But not every firm offers the same kind of insurance. Not all insurance policies cover all items. Some removal businesses charge extra for any protection or certain types of cover.
In short, it's best to get things laid out in black and white first. Make sure you're clear and upfront about what you want to transport if you want to be sure you're protected.
Do your movers bring packing materials on moving day?
Will you need packing materials for moving day? Some companies may bring things like extra cardboard boxes, packing tape, and so on with them. But it's not common practice to do so – some removal companies don't offer packing services at all.
If you think this might be an issue for you – or if you just want to avoid the hassle of sourcing packing materials and doing the boxing altogether – it's worth asking your removal firm early on what they offer in the way of packing materials and support.
What is included in your quote?
Don't let your final moving bill be a surprise! Get this question in early and make sure you're clear about what your removal company will include in your service – and what is going to cost extra. You might want to ask them about:
"Heavy item" surcharges or charges for specific items (e.g. grand pianos)
Late hour charges
Assembling or dismantling furniture
Packing materials
Permits, parking, and fuel costs
What other services do you offer?
These days, most removal firms have realised they can do more for their customers. This means they offer additional services like:
Professional packing

Packing everything you own can be a stressful part of a move. Getting professional packing not only does away with this, but it also minimises the chances of anything getting damaged during transit.

Packing materials

one of the most irritating things about moving house is the need to find suitable cardboard boxes and other packing materials. Why not ask your moving company if they can simply supply some this time?

Storage

Another handy service you might be able to get your removal firm to provide is storage. Downsizing? Not a problem. Have items sorted for convenient storage and taken away at the same time as you move.

End of tenancy cleaning

Not always possible with all movers, tenancy cleaning is a hugely useful additional service. Using the same company means everything will fit together neatly on moving day.
We Can Help You Move House
Enter your postcode to view our rates and availability in your area.
When do you collect payment?
Like many goods and distribution services, most removal firms will ask for payment upfront.
However, it's always best to be sure before you book. When you pay removal companies can differ, as can other payment terms.
As with anything related to money, best to make it a question you ask right off so you know where you stand.
What is your cancellation policy?
When moving house, things happen. Sales, purchase days, and hand-overs can all suffer delays. If your plans change, will your removals company charge you?
Asking about your firm of choice's cancellation policy is a must-do before you book. You should be able to find this written into their Terms and Conditions. But it's always worth checking verbally or via email too.
Takeaways
There are some key questions that you absolutely have to ask your removals firm before you move
Be sure they offer a vehicle of the right size and don't forbid the transport of any items
Ask about removals insurance cover, payment, and cancellation policies
Check in with them about other services that might make your moving day easier
Always confirm what is and what is not included in your removals quote
The major takeaway when it comes to important questions to ask your moving company is "if in doubt, get in touch and ask".
With such a variety of terms and capabilities out there, it's always worth checking in and asking your removals firm if they offer what you need.
Moving house? Find out whether you'll get exactly what you need from us today. Request more information or get a free, no-obligation quote on our fully insured removal service.