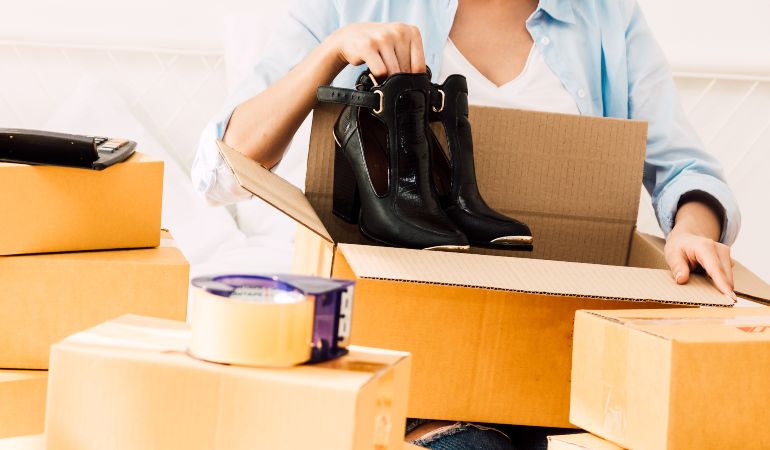 We all know that moving, as exciting as it could be, certainly has a dark side – one of stress, a swirl of chaos and one too many errands to run, all at the same time. Packing your belongings may be stressful enough in general, but every devoted shoe lover knows that the thought of packing their shoes so that they don't get damaged during the moving process, can be really frustrating! The good news is that there is a solution to this problem – it can be a bit time-consuming (depending on the size of your shoe collection), but it will certainly give you a peace of mind!
And let's be honest! When we fall in love with the next pair of beautiful dress shoes, the last thing in mind is how we're going to pack them when moving houses. Sometimes, we buy shoes impulsively, then stuck them in the closet, waiting for the right occasion to wear them. That's how you can end up surprised by the size of the shoe collection you need to pack for moving, and wondering how to do it the right (and safe) way.
So, read on to find out the best way to pack shoes before your relocation to your new home.
Inspect your shoe collection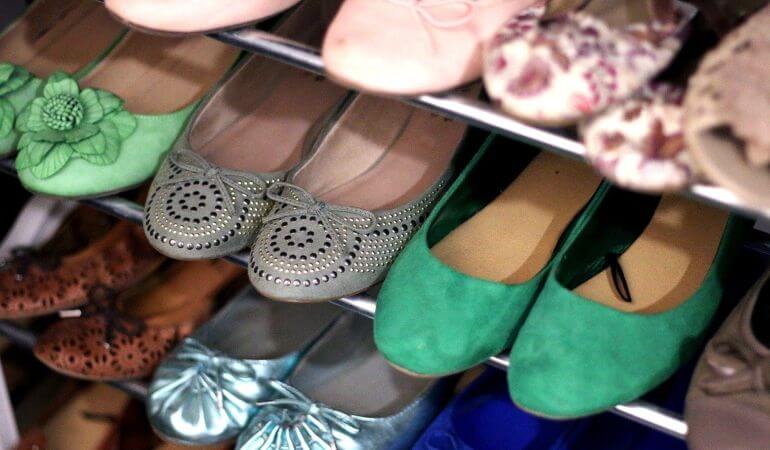 Every big trip starts with a single step. When packing shoes for moving, it may be a good idea to start the process with a shoe inspection. Go through all your pairs of shoes – you may be surprised to find a pair of high-heel sandals that you forgot you bought two years ago while on vacation and never wore them since. Or you may realise all of a sudden that some of your pumps have seen better days and it's time to let them go. So, now is a good time to say "goodbye" to the shoes you won't wear anymore. It may be hard, but it will save you time on packing your shoe collection and will certainly save some space in your new home.
Some questions that may help you make a decision are : "How many times have I put these for the past year?", "Do these shoes match my current style and vision?" or "Are these shoes beyond fixing?"
Divide by style and season
Inspecting your shoe collection will help you proceed to the next step of the shoe packing process – dividing your shoes by style and season. This will help you, in fact, go for one of the most efficient ways of packing shoes and unpacking them after the move. For example, if the moving is taking place during the summer, set aside your winter footwear and pack them, first. This way, they will be out of your way and ready to be put away, first, right after you arrive at your new place.
So, divide your shoes, starting with the ones, which are out of season. It may be helpful to subdivide them by style, as well – dress shoes, boots, sports wear, work shoes, etc. This will help you pack accordingly and keep shoes well organised.
How to prepare your shoes for packing
There are a few other simple things to keep in mind, which will help you to pack your shoes the right way. After all, it will be unreasonable to stick dirty, muddy shoes in a box, right?
Clean your shoes
Wipe down the dust and dirt from your shoes. Packing them clean helps to prolong their life, plus, this way your shoes will be ready for storage after the moving. Just make sure you give them some time before packing to air out.
Get rid of any odours
Some of your shoes may need to be freshened up before packing. There are a couple of ways to do that:

Baking soda: Powdering your sneakers with baking soda overnight will absorb moisture and will eliminate unpleasant odours, without harming the shoes
Dry tea bag: Packing a pair of shoes with dry tea bags in them is another way to eliminate bad odours

Stuff your shoes
This step is important since it prevents your shoes from creasing. Crumpled, non-coloured tissue paper or rolled-up socks are great for this purpose. Don't forget to stuff your boots, as well. With them, it will be simpler to use pool noodles for stuffing if you have some at hand.
Packing your shoes the right way
The main items you will need while packing your shoes, are:
Boxes
Packing paper
Scotch Tape
Labels
Some bubble wrap
If you are a shoe lover who keeps shoes' original boxes, that's great! Often, however, we tend not to do that, in order to save space. As an alternative, you can get different cardboard boxes or plastic containers, which you can use even to store shoes in, after the move. So, wrap each shoe in packing paper, to prevent them from scratching and rubbing against each other and pack them in a box. Use Scotch tape to secure the boxes. Bubble wrap may be necessary for wrapping high heels, especially if you have chosen to pack shoes in a suitcase or backpack.
It will be great to pack each pair in a separate box, but this can be time-consuming and space demanding. This is where dividing your shoes by season and style may come in handy – you can always use a larger box to fit in all your flat sandals and flip-flops, for example, as long as you paper-wrap each pair separately. This approach is nature friendly, space saving and well organised.
Don't forget to label your boxes or containers. This will make your life easier not only during the moving but also when you unpack or store your shoes later on.
Book Fantastic Removals for a Quick Relocation
Enter your postcode to view our rates and availability in your area.
Note: You can always count on Fantastic Removals if in need of packing materials and different-sized moving boxes. Also, did you know that we can even assist you with packing all your belongings, too? We will be happy to help!
Plan out a good arrangement strategy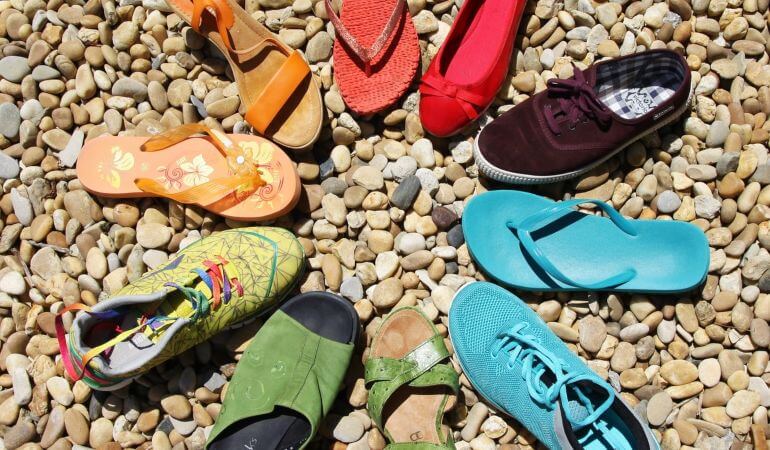 Coming up with a good logistic strategy is important, since it may save you time and stressful moments. Here is what you may want to consider when planning your shoes' transportation:
Load heavy and larger boxes and suitcases, first
Try to pack and load your out-of-season shoes, first, so that they are not in the way
Don't forget to keep handy your most comfortable everyday shoes, plus a select few pairs depending on your needs, since the whole moving process may take some time from packing to settling in your new place
Make a list of what is packed and where and label properly all your moving boxes, so you don't waste time spinning around and opening random boxes when you start unpacking later
Hey, and don't leave yourself barefooted on the big moving day, make sure your comfy shoes don't leave in the removal van without you!
Takeaways
Take this chance to clean and reorganise your shoe collection
Make sure you have your most needed shoes at hand
Pack smart and label accordingly
Don't forget that Fantastic Removals are always ready to help you out!