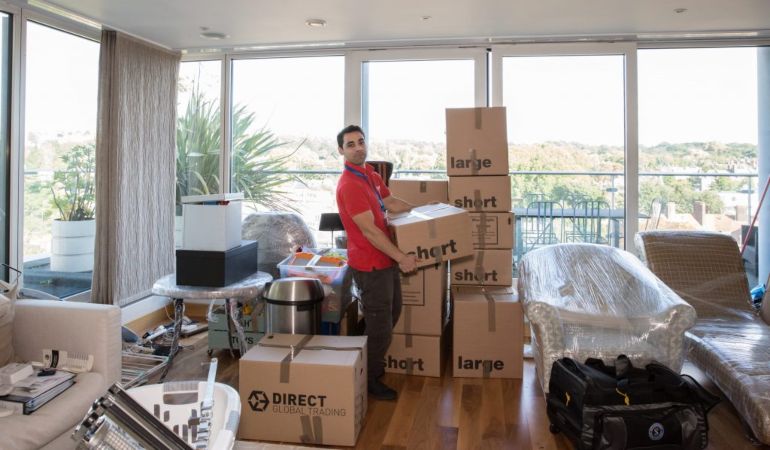 Written for fantastic-removals.co.uk By River Jasmine
Moving can be a difficult process no matter what the external variables are. In some cases though, different seasons and conditions can have a significant impact on the process. There is not necessarily a time to move that is definitively the "best." But below, we'll consider some of the pros and cons associated with each of the four seasons, as well as a few specific considerations to keep in mind.
Summer
Pros: It may be easier to find a home and relocate in the summer compared to any other season. For one thing, the fact that it's such a busy moving season typically means that there are more properties to rent or for sale — meaning you may find more choices (and better deals) when you're actually searching for your new home. Additionally, there just tends to be a little more free time during the summer months as there is less work and you can take more days off work. So you'll have plenty of time once you're ready for the move.
Cons: The heat! Making a move is difficult enough without having to sweat through sunny summer days as you haul boxes in and out of the vans. If you're moving to London, it's worth remembering that the summers only seem to be getting hotter and hotter. You may not think of the UK as a particularly hot place, especially if you're relocating from outside of the country. But last summer the city got so hot that Londonist put out tips on how to cool down.
Something to consider: If you have children, summer may be even more appealing. Yes, it's tricky to manage the kids' schedule in the summer, and, yes, it may be particularly hard to keep them happy in the extreme heat. But moving in between school terms is often best for all involved.
Autumn
Autumn doesn't quite have summer's reputation for moving activity, but plenty of people do wind up switching homes during this mild season. After all, with summer valued in part because it tends to see more properties listed, you may be faced with a sequence of closing on a home in the summer but making your actual move in the autumn.
Pros: The main positive of moving during autumn is simplicity. While summer has its benefits, you're also less likely, at that time, to secure moving services at a good price. In the autumn, moving activity slows down, meaning things are a little less competitive — and in all likelihood, a little more affordable. Throw in cooler weather, and the whole process just seems a little bit easier.
Cons: Unfortunately, along with that cooler weather there is often quite a lot of rain. A seasonal weather overview by London Perfect reveals some of the highest average rainfall during the autumn months, with notably high spikes in October and November. Another potential drawback of moving during autumn is the start of the school term. Relocating early in a new school year can be complicated and disruptive for your little ones, particularly if you're moving far enough that your children will actually need to switch schools.
Something to consider: For families, relocating during the autumn months may give you the opportunity to establish some new home traditions quite quickly, because you'll have moved right on the cusp of the holiday season! Halloween is a beloved, long-established holiday in the UK, and then, of course, there's Christmas. Both can be a little bit busy, but they give the opportunity to decorate your new home and start new traditions right away. A new property can start feeling like home a lot sooner, as a result.
Check also:
Winter
The winter season tends to see the fewest moves for the simple reason that people don't want to deal with cold or icy conditions. However, there are other factors you need to take into account.
Pros: Basically, take the "pros" from the autumn section and re-apply them here. As our post on how to move house during winter has made clear a few years ago, you're simply more likely to enjoy lower cost and better availability from movers.
Cons: The weather can be a really significant drawback. Naturally, it depends somewhat on where you're moving, but conditions in the UK, and London specifically, can be quite cold. Moving in freezing temperatures can be unpleasant; trying it in ice or snow, however, can be just about untenable.
Something to consider: If you're moving to London, it is important to understand that winter is a time of frequent plumbing mishaps. Based on Wired's report more than 500 million litres of water was spilling out of cracked infrastructure each day — sometimes as a result of frost. Because of this, a little more due diligence is required when you move; you'll want to make sure your new property's plumbing and appliances aren't on the verge of decline. For the long term, you can get insurance for these types of concerns. For instance, emergency coverage from HomeServe covers burst pipes and similar issues, so you can prepare yourself for future winters. But you'll want to do all you can to make sure you're not moving right into a home that's about to have these kinds of issues.
Check also:
Spring
Spring isn't as busy as summer, but it's still many people's preferred season to move.
Pros: Moving during the spring months often means taking advantage of some of the year's most appealing weather, in between the harsh winter and the increasingly oppressive summer heat. As appealing as this is however, more housing availability in the summer typically attracts more of a rush. For that reason, moving during the spring can be a comfortable and affordable process that leaves you fully-settled just when everyone else is just joining the start of the moving season frenzy.
Cons: Good weather may be typical for this time of year, but the so-called "spring showers" can always come out of nowhere — and can, more or less, wipe out a whole moving day. Additionally, spring can be another tricky season for kids in school, though if you're moving toward the end of the season they may still be able to finish the academic year.
Something to consider: Moving in the spring may give you the best sense of the environment around you. With lawns coming to life, gardens blossoming, etc., you'll be able to see what the home and neighbourhood looks like in full bloom in a way you just wouldn't be able to in late autumn or winter.
Hopefully, these tips can help inform your next move! There's no "right" or "best" season, and plenty of additional factors can add pros or cons to the ones described here. Generally, though this is a proper outline of what to keep in mind for a move in each season.
Get Your House Move Service Now
Enter your postcode to view our rates and availability in your area.