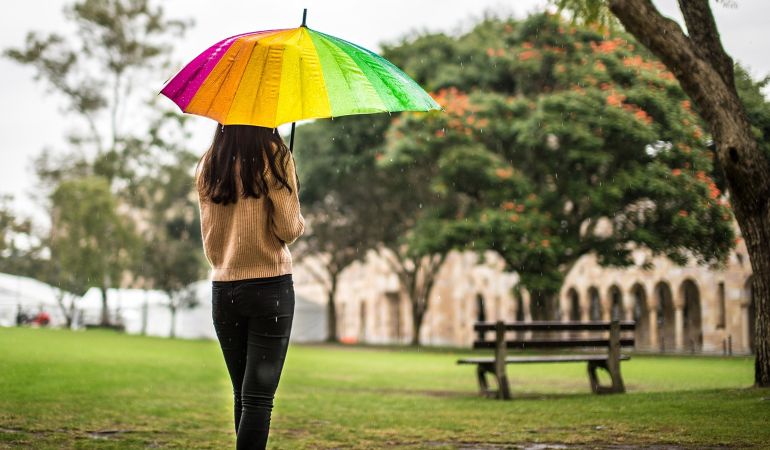 Moving day is tough enough as it is without having to deal with bad weather. But you can't always have the luxury of making a choice. Since most people start preparing a month before the move, they can't be sure whether they'll luck out with a nice and sunny moving day, or if they will be met with stormy, grumpy weather.
So, the best thing that anyone could do is to prepare as best they can. The most important part of this endeavour is to stay well informed. So, without further ado, let us explore how to move house in the rain.
Check the weather forecast
Knowing what to expect might be half the preparation for some. It's the first thing to do if the time of the year gives more trouble than simple rain too. Check the weather forecast every day during the last week before the move. This will give you enough time to make some additional preparations. Compare the forecast between two or more weather websites just to be sure.
Check also:

Do Seasons Have a Effect on the Moving Process
Pack your belongings
Packing has to start at least two weeks before the moving date. No matter what the weather has in store for you, your belongings have to be neatly packed and ready for delivery. This includes boxes, blankets, tape, labels, bubble wrap, stretch wrap, and anything else you can think of for additional protection.
Never leave a box open, no matter what it may contain. Also, fill all gaps with crumpled paper or spare clothes. The snuggly the items are inside a box, the better. Also, if you don't trust cardboard boxes, you can always opt for plastic ones or even laminated ones.
If you're not using professionals to pack for you, there are a few important rules of packing:

The heavier the item, the smaller the box; lighter items go in bigger boxes
Always label the boxes: list what's inside; put a sticker if breakable; put a sticker if it's crucial for the item not to get wet; put a sticker to indicate which side is up
Wrap artwork in the stretch wrap
Wrap stacks of hanging clothes in plastic bags to keep them from getting wet
Wrap furniture in soft blankets so it doesn't get scratches; then wrap them with tape, so that the blankets stay in place; finally, use stretch wrap to protect them from the rain
Wrap cardboard boxes with lots of tapes to ensure their durability; then, wrap with stretch wrap to protect them from moisture
The most important item that needs to stay dry at all costs is the mattress – don't spare the stretch wrap on that one
All documents, money, and jewelry should be with you at all times
Book Fantastic Removals for a Quick Relocation
Enter your postcode to view our rates and availability in your area.
Protect your family
The safety of your family (and the movers, if you decided to use some professional help) is of utmost importance. Here are a few very important things to remember:

Wait out to see if the rain is accompanied by thunder and lightning. Thunderstorms are dangerous, especially if you have to haul large metal items. Even if you are late, wait for the storm to pass before proceeding with the move.
Wear proper gear. Since you'll be hauling heavy items, it's good to wear working gloves so you don't bruise your hands. Additionally, you'll need a raincoat and rubber boots to keep yourself dry and to avoid slipping.
Use cardboard cutouts to walk on. Make a path of cardboard from your inner room to your truck and walk on it as you do your back and forth trips. Not only will these prevent slipping accidents, but you won't have to track mud into the house, either. It's also a good idea to hose some of the mud away from the front yard to ensure your safety. This should also be done when unloading your belongings into the new property.
Check your property before leaving. Before locking the door and boarding your car, give your property a final check. Make sure nothing is leaking and that the power supply is cut off. Storms can be unpredictable.
Drive carefully. Everyone knows not to drive in a less than sober condition, but here you also have to consider the state of the road. Drive slowly and cautiously.
Do not be in a hurry. Most accidents occur when people are too impatient to get to their destination. In order to avoid that, make sure that the move is your only chore for the day.
Insurance is a must
Insurance comes with any reliable moving company, and it's the best thing you can have when your move takes place during risky weather. The chances of something being dropped or smashed during such a scenario can increase dramatically.
The probability of a family member getting injured is also high. Insurance will be costly, but investing in it will spare you a lot of headaches and will give you some peace of mind.
Check also:
More advice on how to move house in the rain
No matter if you use a moving company, or if you're doing the move yourself, rain typically slows down any plans you might have for the day. So, expect delays, and try to keep calm.
Regardless of how much precautions you took to keep your property mud-free, it will get dirty. So, be sure to have a labelled box of cleaning supplies closeby.
Your moving boxes might still weaken from being carried in the rain, despite the careful wrapping. Still, you can avoid their exposure to the rain by parking closer to the entrance of the building. It's a good idea to arrange this possibility well in advance. You will also have to consider the size of your truck and the amount of time you are able to keep it on the parking space.