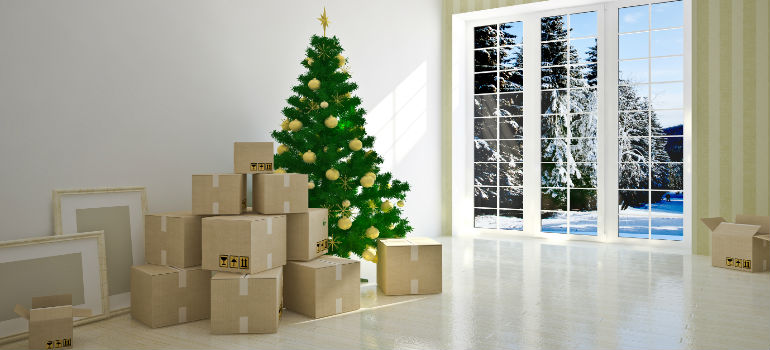 Surely, most people would prefer to spend their winter holidays celebrating with friends and family rather than having to move their place of dwelling. But that's what inconveniences are for. So, the best you can do is to prepare for what's coming.
The Fantastic Removals team explains what to do when moving house over Christmas. Moving during the winter holidays is no different than moving in any other time of the year. There are just a few additional things you have to think about before unwrapping your gifts.
Prepare for the weather
If this winter happens to be very cold and snowy, make sure to wear a warm coat, hat, and gloves. Not only that, but you also need to take precautions against slippery surfaces. When loading your luggage in your vehicle, you would have to do a few return trips to your property, during which not only is it possible for you to slip up, but also drag in snow inside the house. A path of cardboard patches will help you avoid both.
Another thing to prepare is your vehicle – if you're using your own transport, check if it's durable enough to last you through the entire trip, especially if you're going cross-country. Have the winter tires on, equip your vehicle with a ramp and tire chains, s, and take a bag of sand for those difficult, icy sections. It also wouldn't hurt to take it to a technician, just in case.
Plan your entire trip
The first thing on your agenda should be to choose a moving day in accordance with the weather forecast. If there is snow in the forecast, choose the least troublesome day of the week for your house move. If that's not possible, pick the safest road instead. If your trip is going to last more than four hours, make sure that you ride through an area with enough places to have a break.
Restaurants, hotels, motels, and coffee shops will fill you with enough energy to last you until the end of your trip. Also, don't forget to check which ones are open during the holidays.
Consider all utilities
The worst thing you can do is to forget to pay your bills before leaving. Make sure to review your latest bills from your electricity/gas supplier, water supplier, internet supplier, building taxes, and from anyone else you might be missing. You might also need to inform some of the latter that you are moving in order to seamlessly resume your payment schedule at the new place.
Another thing you should keep track of is your household utilities and the condition of your new home. You don't want to arrive on Christmas day and not have access to electricity or running water. Not to mention that if you spot some faulty wiring or other inconvenient damage, you might not be able to find an available professional electrician to fix it.
That's why you must take care of this in advance to be certain nothing will ruin your holiday.
Give everyone your new address
The Fantastic Removals team can offer you a detailed change-of-address checklist to help you remember to update your coordinates. But, that can wait until after the holidays. For now, all you have to do is tell your friends and family that you're moving house so they would know where to send their Christmas cards and presents.
Who knows, you might get a pleasant surprise upon arrival.
Have food and hot drink close by
Supplying your vehicle with enough food and hot drinks along the way will make your move a lot more bearable. Just keep in mind that not all stores will be open around the holidays. So, fetch your large shopping bags and buy your food and drinks well in advance.
Book Fantastic Removals for a Quick Relocation
Enter your postcode to view our rates and availability in your area.
Confirm your moving date
Hiring professional movers is a great choice since a lot of companies are available on Christmas mostly because almost no one requires moving services at that time (except for you).
It's a slow season, so you can expect the charge rates to be low. Of course, this is individual for every company, and if you leave it for the last minute, it will have a significant impact on your final price.
Organize your packing
Start with the items you least need and keep going little by little. By the time you have to move out, the only remaining items in your home should be the clothes that you will wear and the last bed sheets you've used the night before. Here are more tips on the matter.
All important documents, jewellery, money, and credit cards should be safe with you.
Don't forget to defrost the fridge a day before the move. While you're at it, make sure that you've eaten all the food in it, too. You don't want to carry perishable food with you on your trip. If you're using the services of professional packers, explain which items are fragile, so they can label the boxes accordingly.
Inform the new owners
If your old place is being taken by another owner or renter, it would be a kind gesture to leave some information for them before you leave. Make sure to fill in your sticky note with things you forgot to mention, such as instructions about garbage and recycling collections, information about the boiler, and so on. Write it down with your best Christmas wishes.
With the right preparations, moving house over the winter holidays might not be nearly as troublesome as it sounds. The Fantastic Removals team wishes you a Merry Christmas!
Check also:

How Seasons Affect the Moving Process