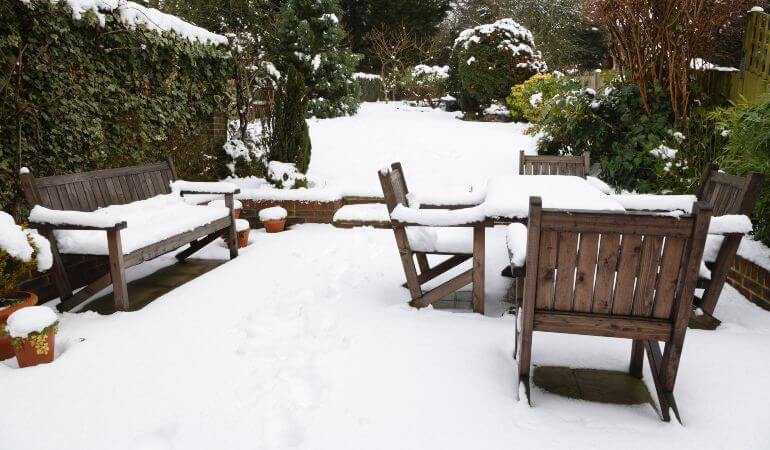 Most people associate winter with a warm and cosy fireplace, lots of fleece blankets and a hot cuppa. Almost none of us think about moving house, especially in cold weather. However, sometimes the unexpected happens and we have no choice but to relocate during the winter season. Is it as bad as it sounds? Actually, no and here is why.

Advantages of moving home in winter
We know that a very convincing case can be made for a house move in the summer. Nevertheless, a winter relocation offers three benefits that can make your moving experience more pleasant and enjoyable:
Lower Costs: The peak season for any removals company is the period between May and September when many people, particularly students, search for better accommodation. Higher demand means higher prices due to availability limitations. Since there aren't as many people moving house in winter, removal costs go down. Moreover, with the holidays just around the corner, you can also take advantage of a Black Friday or a Christmas discount.
Time slot availability: Another common restriction is time. Peak season means it's almost impossible to get your desired pick-up and delivery dates. Booking a service can get even more difficult If you require additional assistance or wish to combine services. You can benefit from more time slot options in winter and pick the dates that suit your busy schedule.
Extra Attention: Time flexibility also allows for additional care on the part of the removals team so that everything is done as per your wishes. Being extra cautious is a good way to prevent any mishaps on the day of the move.
How to move house during winter
We have gathered the most useful tips and tricks to help make your move go smoothly without missing any of the holiday fun.
House inspection and preparations
The main task you need to handle before the relocation day is to thoroughly inspect your new home. If you're moving into a rented house, talk to your landlord to get the keys a few days before the move-in date. Alternatively, if you own the new place, you can make the inspection at any given time and take care of any issues before you schedule your move. The examination process should include:
The electrical and heating systems: Winter days are short and cold. The sun can go down as early as 15 o'clock and the removals process can continue well into the evening. In addition, holding the doors of your new home open for the men with van will definitely not help with keeping the place warm. That's why you must check for any faulty wires or broken light bulbs. If you have a heating boiler with a timer, set it to switch on the night prior to the day of your move. This way the place will be nice and cosy by the time you and the movers arrive on the spot.
The pipes: It goes without saying that the heating and water pipes need to be examined, too. Apart from the heating system being in order, you must ensure that none of the pipes are frozen or broken. Even though you will have packed some clothes and towels in your essentials box, there will come a time when you'll need to wash those too. On top of that, you will need running water to make cups of tea and hot chocolate for you and the technicians.
The foundation, doors and windows: Finding out you have a leaky roof or floor only after you see the water damage on your moving boxes is definitely something you don't want to happen. The same goes for drafty doors and windows. Just imagine having to find an emergency handyman service around the holidays. You can avoid all of this with a proper inspection.
Essentials for the day of the move
Your two main concerns for a winter move are the lack of light and warmth. You will need to tackle them at every turn: from calculating the time it would take to move all your belongings to make sure both your car and your new home are warmed up to room temperature. Here is how to prepare for these and other issues, which may arise in the process:
Change your address: This should be one of your first actions as it takes longer to complete near the holidays. If you fail to do this on time, there is a high chance of being charged twice for the same utility bill. Don't forget to notify Royal Mail, too. You don't want to lose all of your Christmas cards. If you're unsure where to begin, here is our complete guide on how to change your address.
Check the weather forecast: Weather is unpredictable and can always surprise you unpleasantly. However, you can still try to schedule your move on a day with no rain or snow. Follow the local news reports for information about closed roads and traffic diversions.
Map a safe route: Plan your trip from start to finish. You don't want to end up in the middle of a snowstorm and no place to stay for the night. Depending on the distance, you may need to book a hotel for a night or two. Keep in mind that many people travel for the holidays so moving cross country in winter requires good planning. Don't put off booking a room for the last minute.
Keep a list of emergency contacts on paper: Anything can happen on the road. Electronics rapidly lose their charge in the cold. Having all of your emergency numbers printed on a small sheet of paper with save you the hassle of searching for help on foot. Even if you do find a working phone, you still need to have the numbers on hand so you can dial the number you want.
Bring a shovel, cardboard pads and salt or sand (kitty litter also helps): Speaking of snowstorms, it is a good idea to have a few items in your car just in case you get snowed in. A good way to speed up the moving process and keep your belongings safe at the same time is to arrive before the technicians and clear the path to your front door. Afterwards, sprinkle salt to reduce the chance of slipping on ice. The final step would be to flatten leftover cardboard boxes and lay them inside your home. They will soak up the melted snow and some of the dirt from the shoes of the removals team.
Prepare your vehicle: Take it to your local garage for a full check-up – you don't want it to break down in the snow! Don't hesitate to ask the mechanic whether they think your vehicle is up to the long drive. Right after you get back from the garage, pack car maintenance tools, tyre chains, spare tyres and instruction manuals in the trunk, just in case.
Pack an extra charger and a power bank: As we mentioned before, electronics and cold weather don't mix too well. Store all of your electronic devices in a box and pack them in your car, where they will remain at room temperature while you travel. Also, if you have to travel overnight or work during your trip, add a power bank in your luggage. You never know when you might need one.
Expand your essentials box: Since you will inevitably spend a lot of your time outside, you will need extra clothes the brave the winter cold. Remember to bring enough hats, scarves and gloves. You will also need to bring extra duvets for the night. Include tea bags and powdered hot chocolate mix in the essentials box. By making hot refreshments for you and the removals experts, you are providing much-needed warmth on a cold day and setting a good working mood. Kindness goes a long way.
Don't forget the pets: Last, but not least, moving home in winter can be very stressful for your pets. They might try to attract your attention more often than usual. Pets can detect subtle changes in their environment, so a house move is bound to make them more agitated. In addition to the food and water bowls, pack their favourite blanket and toy. Once you arrive at your new place, leave them to get acquainted with the house before the technicians arrive. Then, when it's time for the experts to move all of your belongings inside the house, put your pet on a leash or in a crate.
Check also:

How to Move House with a Dog in the UK
How to Move House with Cats
Book Fantastic Removals for a Quick Relocation
Enter your postcode to view our rates and availability in your area.
How to move house during winter holidays
If you happen to move house on Christmas, you might need to take into account traffic jams and limited working hours. Organise everything for the move-in date, including your meals, well in advance. If you're planning to host a party, keep in mind to schedule enough time to unpack, shop for food and presents and decorate.
The best thing about moving in winter is you can save some money while shopping for gift wrapping. Just use all of the leftover boxes to pack your Christmas presents. It's more environmentally friendly and there will be plenty of material to pack fragile items. Christmas relocation is not impossible. But if you need the extra help, the Fantastic Removals company is ready to aid you in any way possible to make your move as stress-free as possible.
Check also:

Do the Different Seasons Change the Moving Process?
Psst, don't forget to check our Christmas deals. Happy holidays!