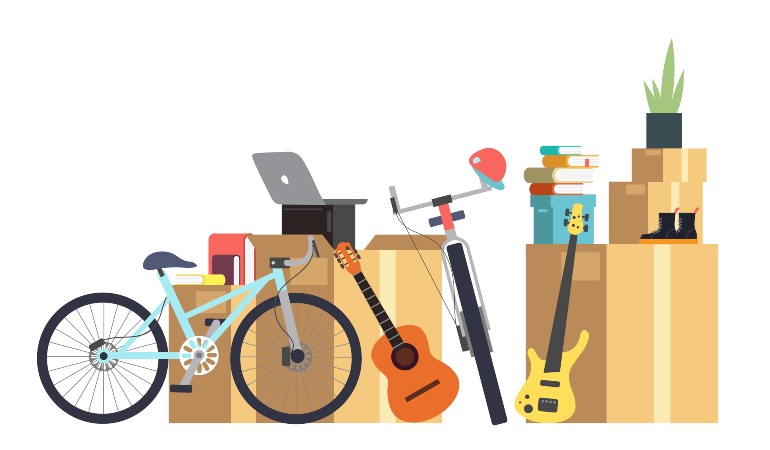 There are many reasons why you might need to be away from your home for an extended period of time – work, school, volunteering abroad. Or you might have just decided that you want to travel the globe for a whole year!
There are a lot of things to consider before you depart, like what you will do with all your belongings, for example. Paying rent for months on end might not be economically feasible and your friends and family might not have the space to keep all your stuff either. The best solution to this problem is to use a professional long-term storage service. 
Long-term storage when travelling
There are more than a few reasons why moving your belongings into long-term storage is the best thing you can do both for your personal items and for your own peace of mind!
Don't worry about your belongings
If you have very valuable personal items, expensive equipment for your work/hobby or you own precious antique furniture and decorations, then it's completely normal to worry about the safety of these belongings while you're travelling long-term.
The thought of something happening to your things while you're away, be it a burglary, a burst pipe or even a fire, might keep you up at night or just not let you fully concentrate on your work or relax during your holiday.
So, if you don't want to worry about the possibility of any of these things happening while you're halfway around the world, moving all your valuable belongings into long-term storage, where they will be under lock & key and 24/7 surveillance, definitely is the safest approach.
Sublet your place while you're gone
You might be gone for a few months, sure, but that doesn't mean that you won't want to return back to the same rented apartment. We all know how hard it can be to find a good home for rent nowadays and if you think you've struck gold with your current one, then maybe it's a good idea to hold onto it while you're away.
However, you'll still have to keep up with lease payments and bills, which can stretch your budget thin. A good way to alleviate some of this financial strain would be to sublet your place while you're travelling long-term.
This way, someone will be using the home and paying rent and bills in your stead and this person will also have a place to stay while you're away.

No matter if this person is a friend or a stranger, you might be worried about them touching your things. So, considering this, it might be best to take all your valuable personal belongings and safe-keep them at a dedicated storage facility.
Problems with accommodation
Leaving your belongings in your rental apartment while you're away might sound like a good plan, you can bear paying for the lease or you'll just sublet it, so that's not an issue. But what if your landlord calls one day and tells you "I'll be selling the apartment, so you have to come pick up your things this week or I'll toss them out on the street"?
Nobody wants to hear this while they're thousands of miles from the apartment in question, so if you think that such a situation is possible with your current landlord, then you should seriously consider what to do with your belongings before embarking on long-term travel.
Ask friends or family if they can help move out your things if such a predicament does happen and if they can help you, that's great! But if they don't have the space available or just live too far away to be able to assist you, then moving all your possessions into long-term storage is what you should do before beginning your travels.
Storing your things in a commercial storage facility is an inexpensive way of ensuring nobody touches, steals, breaks or throws your things out while you're gone. Besides, you can always move your things back into your apartment when you get back if you choose to keep renting it.
What are the belongings that require storage?
You have a ton of different personal items and taking them all with you when you move out or even just placing them in long-term storage can be quite cumbersome. You need to choose what you'd like to keep, throw away or donate and this way you'll also declutter your life a bit, which is never a bad thing! Keep only what you truly consider necessary, as the more items you have, the more storage you will need to pay for in the end.
The list of things you'd want to keep and store varies widely from person to person, but the items people most often put into long-term storage are:
Jewellery – rings, earrings, necklaces, wristwatches and other expensive small items
Heirlooms and antiques – items of varying size with big monetary and/or sentimental value
Electronics – personal computers, TVs, audio systems and other pricey devices
Cars – if you own a car, then you should consider moving it somewhere safe while you're gone, so you don't have to worry about it being broken into, damaged or towed away
This list is in no way exhaustive, but it should give you a good idea of what types of items you should move into a storage facility while you're far away from home. You can always choose to store all sorts of items you consider valuable, but you should always keep in mind that the more things you store, the more you need to pay for storing them.
Ask friends and family for help
If your family doesn't live too far away from you, then it's a good idea to ask them whether you can store some small items, especially clothes that you won't need on your travels, in your old room and closet.
If your family is just a bit too far away for either of you to make the trip over, then you could possibly ask some friends who live close by whether you can store some of your smaller items in their home.
You should still consider that your family and friends might not have the room to store bulkier items like appliances, furniture and large electronics, so you should look towards renting a cheap space for long-term storage, so you don't need to inconvenience your close ones with storing your larger belongings.
Another option we mentioned earlier was to donate what you don't need. Look through your older belongings – things like clothes and furniture you no longer use might be of great help to someone in need, so consider donating any such items to the local Red Cross or any other organisations that accept donations of this type.

A final thing to keep in mind when packing your things to give to friends & family or to store in a commercial storage facility is that packing your belongings properly will save you a lot of space, keep your personal items from getting broken during the moving process and even save you money because you've used the available space more efficiently!
You can also hire our professional movers to help you move all your belongings and take some of the weight of the big move off your shoulders.
Takeaways
Avoid worrying about your belongings while you're away – move them someplace safe
Store your personal items safely and cheaply by using long-term storage services
Choose what to keep and store/ donate / throw away
Ask friends and family if they can help with storing clothes and small items
Make sure to pack your things properly to ease the process of moving