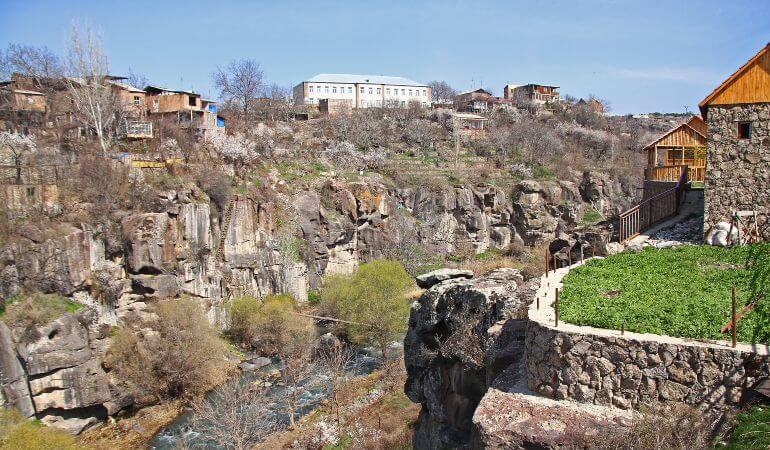 Armenia is a country, situated in the highly mountainous region of the Caucasus. It is a former Soviet republic and one of the earliest Cristian civilisations, overflowing with religious sites and heritage monuments. Armenia used to be one of the most prosperous and developed parts of the communist world and continues to maintain a good quality of life. The capital city is Yerevan, which offers all the conveniences of city life, without the usual fast pace of the European capitals.
If you are considering a life abroad, Armenia can prove a good option. Even though it might not be a traditional expat destination, living in this country brings about numerous benefits. You can enjoy a very low cost of living and low crime rates, vast natural forests and reserves, unspoiled countryside and cheap public transport all over the country.  Moreover, one of the world's most hospitable and kind people are the Armenians, whose genuine curiosity and friendliness will make everyone feel at home.
From the forest towns in the north to the river villages in the south, Armenia can offer plenty of cities and country life options.
Best cities to live in Armenia
Armenia has a range of towns and villages, and each of them carries a dash of uniqueness and charm. Most of them boast tranquillity, small thigh-knit communities and exciting cultural life. Here are the best cities in Armenia:
Yerevan
Yerevan is not only Armenia's capital and largest city but also the cultural hub of the country. Sometimes it is referred to as the "Pink City", because of the pink coloured tuff buildings. As an old town with a long-standing history, Yerevan is rich with cultural heritage, defined by its Soviet-era architecture and is home to multiple museums, libraries, theatres and operas. The art galleries of Yerevan are constantly showcasing exhibitions and installations of local artists in support of Armenian art. Moscow Cinema is a famous cinema hall, hosting the annual Golden Apricot International Film Festival. Many restaurants are serving delicious Armenian cuisine. The capital also offers affordable housing options and plenty of great employability opportunities. Yerevan is the centre of the modern industrial sector, Armenia's financial hub and home to many major Armenian companies.
Ashtarak
How would you like the idea of living in a place where you can feel history all around you and walk on ancient ground? Fortunately for history buffs, you can find that in Ashtarak. The city is one of the oldest Armenian settlements with multiple churches and religious monuments, a 17-century bridge, heaving over the passing by Kasagh River, as well as four schools of art. Moreover, the annual Ashtarak Walnut Festival is taking place to celebrate the local flavoursome walnut. But Ashtarak is also home to numerous industrial enterprises. The city plays a significant role in the national economy. Armenia's leading dairy and ice cream company is based in Ashtarak, along with a chocolate factory. Additionally, the valley of the Kasagh River (known locally as Ashtaraki dzor) and its recreation areas with pools and restaurants attract Armenians from all around the country.
Kapan
Nestled in the shadows of Mount Khustup, Kapan seizes visitors with breathtaking views of the high mountain overlooking the city. Kapan is the largest city of southern Armenia, situated in the valley of the Voghji River. It is also in proximity to the Shikahogh State Preserve, home to a range of plant species and rare animals. Currently, the region is working on building a strong ecotourism presence with newfound hiking trails. Despite post-war and post-Soviet struggles, Kapan is emerging as a developing economy with strong traditions in mining and a growing tourism sector. The city is the educational centre of southern Armenia. Except for the 13 public schools, the city has 3 music and 3 sports academies. It is also the home to two faculties of the National Polytechnic University of Armenia.
Goris
Another town that has played a significant role in Armenia's history is Goris. This has made it a prominent tourist destination with many hotels and inns, attracting local and foreign tourists alike. Set along a river and surrounded by the lush green Zangezur Mountains, Goris boasts picturesque landscapes. The nearby mountains are famous for the ancient cave-dwellings carved into the rock and the Goris Wildlife Sanctuary located there. Goris is also proud to have the longest cable car ("Wings of Tatev") in the world, leading to the nearby monastery and providing a gaze of the natural enchantment from above. Moreover, nearby are the stone-pyramides, remarkable rock formations on the edge of Goris. With a local economy mainly based on the light industry, Goris also is known for its homemade fruit vodka. Additionally, the city is home to Goris State University and the faculties of two other universities.
Vanadzor
The capital of the northern Lori Province, Vanadzor is a natural oasis, a cultural and educational centre with a strong economic sector. Situated in the valley of Pambak River, on the point where three rivers meet and surrounded by 2,500-meter-high mountains, the city boasts a mild climate, clean air, mineral springs and numerous spa resorts. Vandazor's cultural life is defined by museums, libraries, many theatres, archaeological sites and Vanadzor House of Culture, which is one of the largest Armenian centres. Interestingly, several successful hard rock bands have emerged from the city. The infrastructure of Vanadzor is diverse, consisting of chemical and dairy production, as well as manufacturing of garment and building materials. Vanadzor is also a student centre, housing two universities and being campus home to faculties of several other higher education institutions.
Other honourable mentions
In addition to the above-mentioned Armenian cities, Gyumri and Armavir are another two great options that you need to consider. Here's why:
Gyumri
The second-largest city of Armenia is Gyumri. Known as the "city of crafts and arts", Gyumri houses numerous museums, art galleries and heritage monuments, as well as theatres and operas with a long-standing history. The city boasts well preserved local customs and traditions and it is sometimes labelled as Armenia's "capital of laughter and humour" because of its legacy left by Gyumri's humorists. Armenian folk music plays a significant role in the city's traditions. The annual Renaissance international music festival is being held there. The local economy is based on manufacturing, construction, banking and tourism. The city is also a busy student centre and is known for producing many of Armenia's Olympic and world champions. However, living in this high altitude place means freezing cold winters with record low extremes of −41 °C, so prepare a heap of warm clothes before heading to the lovely Gyumri.
Armavir
Close to the historic town Armavir, capital of ancient Armenia, is located the modern urban centre of nowadays Armavir. Teeming with archaeological sites, the town can also offer numerous cultural activities. There is a cultural centre called "the Red Club", multiple libraries scattered around the town, a prominent theatre group and schools for music and arts. Armavir is an important industrial and service hub of the region and Armenia. The local economy is mainly based on food-processing and production of building materials, as well as the banking sector. Martial arts are quite popular in Armavir, so there are plenty of sports clubs and opportunities for those looking to stay active. The annual Mayor's cup torment of judo is held in Armavir.
Cities and places you should avoid in Armenia
As already mentioned, Armenia is generally a safe country and the crime rates are very low. Armenians are kind, welcoming and respectful people. Unlike in other countries, in Armenia, foreigners are treated as special guests by the locals and the police. However, here are the things to keep in mind when living in Armenia, in terms of safety:
Petty crime

Although not common, petty crime isn't nonexistent. As it is always recommended, be cautious when in crowded places. Pickpocketing can sometimes occur. There have been some cases of thefts from vehicles. Keep your valuables in the boot or discrete places and the windows and doors shut at all times.

Political demonstration

Demonstrations and protests are not common but can occur in Yerevan and Gyumri. Try to avoid them.

Military action

A ceasefire agreement between the Armenian and Azerbaijani forces has ended the military activity in the Nagorno-Karabakh region. Nonetheless, it is still advisable to avoid Azerbaijan's border. Do not use the highway between the towns of Ijevan and Noyemberyan.
Takeaways
As extraordinary as moving to Armenia might seem, the country is a real hidden gem. Given Armenia's ancient cultural heritage, exceptional natural scenery and friendly local people, moving from the UK to Armenia can be a really good decision. The towns mentioned in this article are some of the best options for relocation. But in the end, know that whichever location you choose as your next home in Armenia, you will enjoy one of a kind experience, full of beautiful landscapes, safety, tranquillity and hospitality.