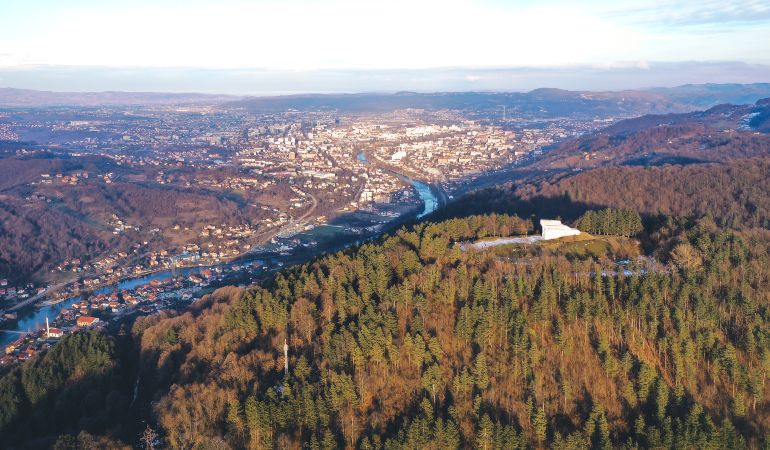 Bosnia and Herzegovina is a hidden gem packed with natural wonders of unspoiled natural parks, cascading waterfalls, and rivers of emerald green. Historical towns and cities combine with contemporary architecture, with every location offering a different atmosphere.
The cost of living is very inexpensive and food and transport costs are minimal. Local people are warm and generous, helping you to settle down in this new country.
Do you consider making your new home in Bosnia and Herzegovina? Take a look at where you could live…
The best cities to live in Bosnia and Herzegovina
Sarajevo
The majority of ex-pats relocate to the capital Sarajevo where international organisations offer employment. Entrepreneurs focusing on setting up businesses in commuting and technology are also choosing Sarajevo as a destination. It has a strong tourism economy and is also one of the most popular holiday destinations in the region.
The city has a rich history with museums, Mosques, Catholic Cathedrals, and Synagogues sitting alongside modern malls and skyscrapers. Art lovers will be in their element as there's a thriving cultural scene with prominent events such as the Sarajevo Film Festival and the International Theatre Festival taking place here.
Sarajevo has a great public transport system with an extensive tram and trolley network and numerous bus routes. There's also a frequent train service linking Sarajevo to other Bosnian cities.
Banja Luka
Banja Luka is the second-largest city in Bosnia and was an important military centre and the original location of the seat of the territory governed by a pasha. Today, its industries include fruit and vegetable canning, brewing, and the manufacture of machine tools, electrical appliances, and clothing.
The city has a safe and green environment for healthy living and offers many sports facilities. It's often called the city of youth and sports and residents can enjoy kayaking, rafting, and sport fishing on the Vrbas River.
The culture is second to none with many galleries that organise events throughout the year. There's the National and Children's Theatre of Republika Srpska and the Museum of Contemporary Art, and various communities and temples representing its historical core.
Check also:

Cost of Living in Bosnia and Herzegovina
Tuzla
Tuzla is the third-largest city of Bosnia and Herzegovina. Due to its industrial setting, it may not be the prettiest destination but it's a lovely old town. It's also quite wealthy due to its primary economic source of salt production.
If you move to Tuzla from the UK you'll find employment in accountancy, marketing, engineering, and the economy. There's also the possibility of building a career within the United Nations.
When you're looking for history, the Pannonian Lakes are supplied directly from the local wells of saltwater and the Salt Square is dedicated to this aspect. The City Fountain is located in the centre of the old town where you can get fresh water for free. There are many art galleries, a model of an ancient village to explore, and the hill of Kicelj that offers the best panoramic views of the city.
Zenica
Zenica is an industrial city located about 70km from Sarajevo and is situated on the Bosna River surrounded by mountains and hills. The town's old quarter has a synagogue which is now the City Museum and Art Gallery. There's a mosque, an Austrian fountain, and plenty of shopping facilities.
Accelerated development has been focused on the core of the city with the main city square opening for New Year's concerts, music festivals, and artistic and trade fairs. Public transport has been greatly improved and the education system modernised.
Greater appreciation of farming production has seen an increase in the production of high-quality potatoes, wheat, maize, and vegetables, with the famous sheep cheese being highly sought after. Zenica is connected with Sarajevo by railway and road lines, and the main medium of communication is via the Radio and Television of Zenica.
Mostar
Mostar is the most visited destination in Bosnia combining a special mixture of Bosniak and Croat cultures on either side of the Neretva river. It's the fifth-largest city in the country and its proudest monument is the Stari Mostar, the old bridge that sits over the river, that hosts the Red Bull Cliff Diving World Series.
Jobs in Mostar when moving from the UK could involve you working remotely at a first-class coworking space, as a project director, or becoming involved in international school teaching.
If you want to chill and relax in your free time it's the perfect destination for you with plenty of coffee shops, pubs, and clubs for such a small city. The Old Bazaar is filled with souvenirs, scarves, and jewellery, and a walk through the Mostar streets offers you a fascinating mix of the old and the new.
Other honourable mentions
Take a look at other areas and cities where there's an opportunity to settle whilst prices are still low:
Brcko
The district of Brcko is unique as it's the title of Europe's only self-governing free city. It sits on the banks of the River Sava with Bosniaks, Serbs, and Croats living side by side. The main street is lined with colourful Hapsburg architecture, and the river port is the largest in Bosnia.
Brcko has three football clubs, and the city is home to a local theatre and an economics school of the University of East Sarajevo. Job opportunities come in the form of construction, the caregiver community, and multilateral development banks.
The cost of living index here is very low, as is the traffic commute time index. Safety and health care are deemed to be moderate.
Konjic
Konjic is located halfway between Sarajevo and Mostar and is one of Bosnia's most beautiful towns. It's surrounded by canyons and mountains with a six-arched bridge that dominates the centre crossing over the Neretva River. Activities here include rafting and canoeing, with private and custom tours of the surrounding countryside readily available.
You'll be able to learn new skills in the gardening or woodworking sector, with jobs in the social science sector ever increasing. Housing is extremely cheap and it really would be a lovely place to call home.
Cities and places you should avoid
Before you make your final decision there are some cities or areas that you need to steer clear of for these reasons:
Watch out for landmines!

There are around 1,400 communities still affected by landmines with unpaved roads, abandoned or derelict buildings, and minor roads still being hazardous.

Beware of natural disasters!

Residing in an area of active seismic activity earth tremors happen every so often. Tremors were felt in Bosnia and Herzegovina, Montenegro and Croatia from the 2016 large scale earthquake.

Look out for poor air quality!

There's a high amount of pollutions and allergens in the air as Bosnians love to smoke. If you're at risk you'll need to have appropriate medication with you at all times.

Be cautious of terrorist attacks!

There's a heightened threat of terrorist attacks globally against UK interests and British nationals from groups or individuals motivated by the conflict in Iraq and Syria, so you should always stay vigilant.