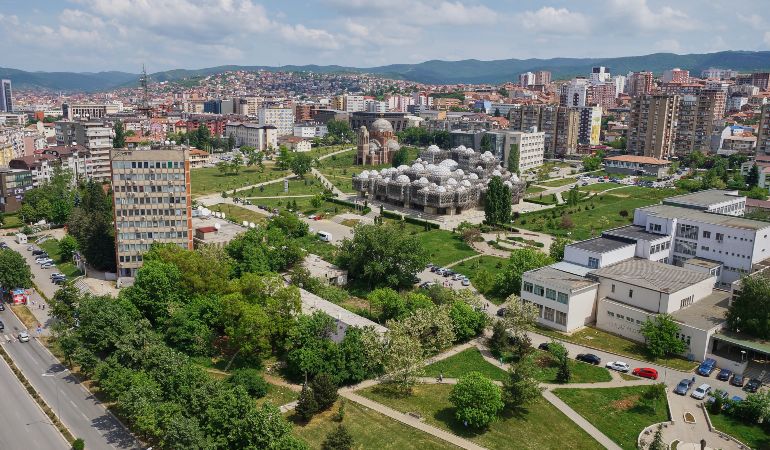 As one of the newest countries in the world, and one that is still not universally recognised as an independent state, Kosovo may not be the first place you consider when you're looking for a new home.
However, it does have much to offer.
Nature lovers will enjoy the beautiful mountain scenery, and for those looking for culture, the country is also home to multiple monuments and sites of historical interest.
Within the cities of Kosovo, you'll find a rich cultural life. It has one of the youngest populations in Europe and is noted for its friendliness towards foreigners. While wages there might not be high, life in the country is affordable and your money will go a long way.
If you've set your sights on Kosovo as your new home but can't decide on the best place to live, read on!
Best places to live in Kosovo
There are lots of reasons why moving to Kosovo might work for you, but deciding where to live within the country is another matter. So, to help you out, we've listed some of the best places to live in Kosovo.
Pristina
The architecture of Pristina is an interesting mix – decaying soviet-style tower blocks are found in proximity to modern luxury hotels. There's also an old quarter with a handful of traditional houses.
Must-see attractions include the library, which, depending on your perspective, is either 'a fine example of Brutalist architecture' or 'the ugliest building in the world', and Bill Clinton Boulevard where you'll find a statue of the former president of the USA!
The international airport makes Pristina a good choice for anyone who needs convenient connections to the wider world, and as a national capital, it offers reasonable employment prospects for ex-pats.
The combination of university students and ex-pats in Pristina make it a lively capital. There's a thriving cafe culture with lots of inexpensive dining options, and good restaurants when you want to splash out. There's an interesting market, a range of festivals throughout the year, and everything required to live a satisfying urban lifestyle.
Prizren
If you're looking for a city steeped in tradition, you may find Prizren more attractive. The city is built around a winding river and is home to many architectural highlights, including beautiful mosques, churches, and red-roofed houses.
There's a fortress perched on the hill over the city, and a 30-minute walk will take you to the very top of it. This is a popular spot for locals wanting to admire panoramic views of the city and the surrounding area.
Prizren is famous as an artists centre, notably jewellers and creators of bridal fashions. You'll find life in this city to be more laid back than in Pristina, but there's still a choice of shopping and dining options, and the cost of living, especially accommodation, is somewhat lower than in the capital.
Gjakova
You've probably never heard of Gjakova, yet during the Ottoman period, this city was one of the most developed trade centres in the Balkans. This history is reflected in the fact that Gjakova still has the largest bazaar (market) in the country. This city, located in southwest Kosovo, is more widely known for its cafés and artisan boutiques.
Gjakova has a long history of education and is now an important university town. There has also been an increase in private sector educational facilities at all levels, from pre-school to higher education. Suitably qualified ex-pats may easily find teaching opportunities here.
If living in an attractive city with a rich history is what you're after, Gjakova is worth considering. Low living and accommodation costs might also influence your decision.
Ferizaj
Ferizaj is the fifth largest city in Kosovo and is located about halfway between Pristina and Skopje. Like Gjakova, it was an important trading centre in Ottoman times.
The city is primarily famed for two things. Geographically, Ferizaj is the location of a split in the Nerodimka river, with the two branches ending up in different seas. On a social and political level, the city has a reputation for religious and cultural tolerance and coexistence.
When religious tolerance is a hallmark of a city, it's to be expected that it will be home to many significant religious sites. In Ferizaj, you'll find the St. Uroš Cathedral and the Madhe Mosque, sharing the same courtyard and situated just metres apart.
When not sightseeing, residents of Ferizaj can enjoy living in a thriving town, set in the attractive countryside. The main centre is pedestrianised and houses a range of cafes and bars. The city also boasts a few good quality yet affordable traditional restaurants.
Peć
Also known as Peja, Peć is located just 85 km west of Pristina, so it's an easy travelling distance to the airport.
Peć will appeal to you if you want your new home to grant you easy access to some of the most stunning countryside in Kosovo. The city is only a few kilometres away from Rugova Canyon. Extending to 25 kilometres and with a depth of up to 1,000 metres in places, the canyon is the top attraction in Kosovo for nature lovers and anyone whose hobbies include rock climbing, caving, or hiking.
The city itself abounds with traditional cafes and restaurants, interesting independent shops and a range of historical and cultural monuments. Near the city is the Patriarchal Monastery of Peć, a collection of four medieval domed churches famed for their stunning wall paintings.
Accommodation in Peć is very affordable, too – a small apartment in the city centre could cost you less than €150 per month.
Other honourable mentions
Brezovica is a tiny settlement with an official population of 68 at the last census, it's also the centre of the Kosovar ski industry, so maybe you could find employment in the tourist industry here and become resident number 69!
In truth, Kosovo is not yet a popular destination for ex-pats, so providing you avoid any of the obviously undesirable locations, you could settle anywhere in the country and expect the warm welcome that comes from being a trailblazer.
Places to avoid
Despite its troubled past, Kosovo is generally a safe place to live. There are lingering tensions in a few places which can flare up on rare occasions. You should probably avoid moving to Mitrovica or locations close to the border with Serbia.
Takeaways
Kosovo is still a relatively unexplored destination for ex-pats but has a number of attractive, safe cities suitable to relocate to.
The country is likely to appeal to those who are happy to live without the security of a large local ex-pat community.
Employment opportunities may be limited but the cost of living is low, so Kosovo could suit you if you're living on a limited passive income.