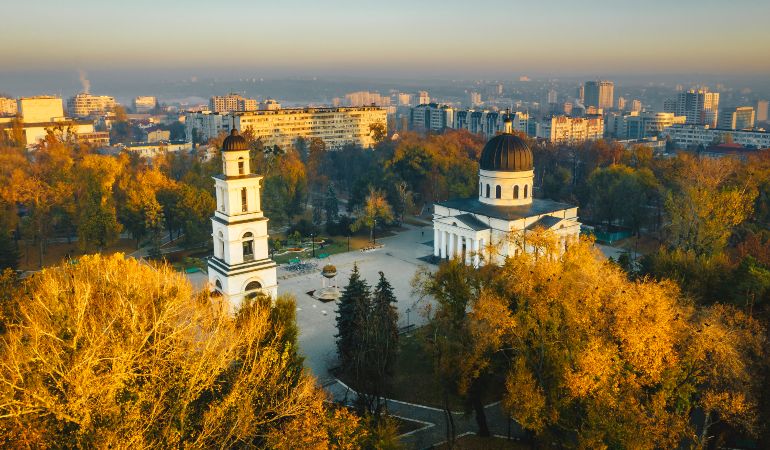 Moldova is an Eastern European country and as such scores a relatively low cost of living. Moldova also offers beautiful forests and rocky hill landscapes, numerous vineyards, a successful education system and a very traditional lifestyle. The locals are very warm and welcoming towards foreigners. Although the country might not be seen as a traditional relocating destination for expats, it can surely offer a unique and interesting experience. If you are up to the challenge of moving from the UK to Moldova, check below the top cities to live in the country.
Best cities to live in Moldova
Moldova is not visited by a great number of tourists and because of that most of its cities enjoy all year round tranquillity and security. The country also offers mild and sunny weather, exciting cultural life, interesting heritage sites and a unique lifestyle.
To help you find the place that will suit you the most, we have prepared a list of the 5 best cities to live in Moldova. Here they are:
Chișinău
We choose to start our list with Chișinău not only because it is Moldova's capital and its largest city, but because of the many benefits life there has to offer to expats. From a lively and international atmosphere to a growing economy and various opportunities for foreigners, it's easy to feel at home there. Chișinău also impresses with two opposite faces – one that is defined by concrete buildings, and another that is the green and peaceful spaces.
As the capital, Chișinău also has the best public transportation in the country, as well as many opportunities for leisure activities. Being an international centre, many people there speak either English, Russian or Ukrainian but it is always useful to learn the local language which is Romanian. Located in Chișinău is the only international school in Moldova, as well as 12 of the country's universities.
Tiraspol
The administrative centre of the Transnistria Republic and the second-largest city, Tiraspol looks like an open museum of Soviet times. This place is rich in history. Whenever you look around you, you will be surrounded by links to the Soviet past. But the best thing about the city is not even its heritage. It is the extremely low cost of living presently there. Compared to the capital Chișinău, the renting prices in Tiraspol are almost twice as cheap. Food and alcohol costs are also seen as very inexpensive compared to the prices Western countries are used to.
Moreover, Tiraspol is one of the quietest and most relaxed places in the country. The internet connection is surprisingly fast and the public transport is also very good and reliable. Tiraspol is home to two top division football clubs, one of which is the most successful Moldovan club.
Bălți
Bălți is a real jewel of Moldova. It is the second economically important city in the country, after the capital and also the second cheapest place to live in the country, after Tiraspol. Often referred to as "the northern capital", Bălți is an industrial and cultural centre, situated on a hilly landscape. As the northern part of Moldova has very fertile land, the region is highly agricultural.
However, the most appealing part of living in Bălți is the rich cultural life. The city is home to numerous historical buildings, theatres, museums and art galleries. There is also a wide range of shopping options. Several NGOs work in the city. The sport in the city is also very developed. There are 7 sports schools, 2 Olympic swimming pools and a top league football team. Bălți is also where the largest university of Moldova is located that also houses one of the largest libraries in South-Eastern Europe.
Bender
Bender, also known as Bendery or Tighina, is located on the banks of the Dniestr River and is considered one of the greenest cities in Moldova. There are numerous parks and green areas where you can take a walk after work and relax. Bender is home to many historic attractions like the impressive Bendery fortress and is also part of the historical region of Bessarabia. Because of its strategic location, the city has experienced a history of conflicts.
Currently, Bender is within the internationally recognised borders of Moldova and under the de facto control of the unrecognised Transnistria Republic. Rich in heritage and greenery, bearing the scars of a relatively recent conflict, Bender can be undoubtedly seen as an interesting choice for relocation, charming for its beautiful natural surroundings and rich heritage.
Cahul
Despite Cahul's history of a battleground, the city's life is blossoming. Renowned for its thermal spas, Cahul is a top-notch health resort being rich in mineral springs. Cahul also has a very vibrant cultural life and is defined by its folk music. If you are a fan of folklore, you would be glad to know that several festivals are being held in the city every year, the most prominent one being the "Nufărul Alb" ("White Waterlilies").
Additionally, Cahul is among the most affordable places to live in Moldova and Europe. The State University of Cahul offers both bachelor and master degrees in disciplines like law, public administration, business, economics, philosophy and history. Cahul also offers great opportunities for sports enthusiasts.
Other honourable mentions
Other cities worth mentioning are Soroca, Cricova and Orhei. They might not seem as attractive as the previously mentioned cities but they still have something to offer.
Soroca
Soroca is located close to the Ukrainian border and is perhaps one of the most beautiful cities in Moldova, overlooking the stunning Dniester River and having charming medieval-style architecture. Like many other Moldovan cities, Soroca also boasts lively cultural life and interesting heritage background. Known as the "Roma capital of Moldova", Soroca is home to the Romani minority. On the other hand, Soroca is not among the cheapest places to live compared to other Moldovan cities, as well as it lacks versatile education options.
Cricova
Cricova is a town located just 15km north of the capital and ideal for wine buffs. The town is famous for its marvellous underground wine cellars and even above the ground, you will still be surrounded by grapevine aesthetics. If that is not enough for you, Cricova names its streets after wines and hosts a wine dedicated festival during September. What better place to chose if you want to get really into the wine business? But putting the wine aside, there is not much the town can offer. Cricova mostly depends on its wine production, limestone extraction and tourism.
Orhei
Orhei is another medieval town with great cultural heritage resources. From an archaeological complex and a grand fortress to many interesting museums and underground cellars, Orhei is a town out of a fairy tale. Moreover, due to its strategic location on the banks of the Nistru River, the commercial trade, along with the local economy, are steadily blossoming.
Cities and places you should avoid in Moldova
Moldova is a safe country with a relatively low criminal rate. Public demonstrations and protests are not uncommon but they remain mostly harmless. Keep in mind that, although not often, dislike towards minorities can be shown by some Moldovans.
However, petty theft is the most common crime risk. Foreigners are more often targeted as it is assumed that they have more money. To protect yourself from pickpocketers, avoid or be mindful of the following places:
Crowded streets of Chișinău and other major cities
Busses and trains (especially international ones)
Unlit park alleys and streets
Street lighting can be poor in some parts, so it is advisable to carry a small torch for walks after dark. This also applies to driving outside urban areas at night as driving standards and road conditions are somewhat poor and you will need to be careful.
Takeaways
Moldova is a beautiful country, enriched with complicated heritage and stunning nature. It offers a low cost of living and a lot of charming cities that are welcoming to expats. The country has been steadily developing its economy and working towards attracting foreign investments. Many locals speak English, which makes it easiest for foreigners. Higher paying jobs are mainly concentrated in major cities, but there are towns scattered around the country for every taste. If you decide to chose Moldova as your next home and move there from the UK, you doubtlessly will be signing up for an extraordinary experience.