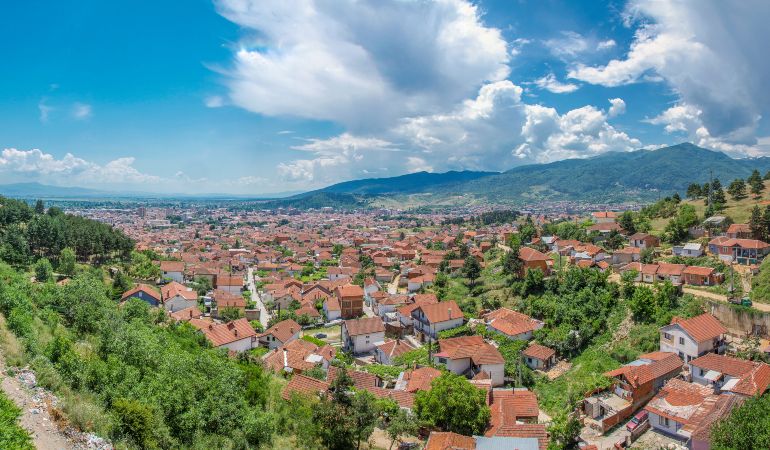 North Macedonia is a small country with a small population. But for many seeking a new life, it ticks a lot of boxes. Stunningly beautiful countryside with mountain ranges and lakes to visit. Fascinating history, the relics of which can still be found across the country. A lively, diverse culture that draws upon both Eastern and Western influences.
North Macedonia also offers good connections to the rest of Europe and when you're choosing where to live, you'll discover you have a choice of modern cities that offer everything needed for a comfortable life. Finally, while many of the cities of North Macedonia provide all the amenities you'd expect in Western Europe, living and accommodation costs are affordable.
Employment opportunities for English speakers in North Macedonia are mostly to be found in English language teaching or with one of the NGOs involved in technical training or relief work. You're most likely to find work in the capital and other large cities. Local wages are low, which reflects the lower living costs. Still, if you're negotiating a contract, make sure you'll be well enough paid to meet your needs.
If you have a passive income or work online, your choices of places to relocate to are far wider. So where should you go? What are the best places to live in North Macedonia and is there any place you should avoid?
Best places to live in North Macedonia
Skopje
The capital of a country isn't always the best place to live. But in the case of North Macedonia, many ex-pats have settled here. Indeed, a third of the North Macedonian population make their home in the nation's capital, but that's still less than 700,000 people so it doesn't feel crowded.
Skopje is served by an international airport, though this is 20 kilometres from the city centre, the city is linked to Europe-wide rail routes and the bus station serves international coaches with routes to Hamburg, Istanbul, Prague, Sofia and other prominent destinations. Living costs in the city are low and accommodation is affordable.
Skopje is rich in cultural events, being home to the National Philharmonic Orchestra, the National Theatre, and the Macedonian Opera and Ballet. The city gets mixed reviews for less high-brow entertainment, some people rate the nightlife highly, others complain that there's not much variety. Still, there are plenty of restaurants and inexpensive dining options too.
Bitola
Located just 14 kilometres from the Greek border, Bitola was once known as the city of consuls. The city still houses thirteen consulates. It was, at one time larger than Belgrade and was regarded as one of the most beautiful cities in the Balkans.
Bitola offers reasonable employment prospects and in terms of leisure activities, it won't disappoint. As you'd expect of a city with over 100,000 inhabitants there are plenty of restaurants and bars to choose from, particularly in Shirok Sokak Street which also has a variety of well-preserved neoclassical buildings.
Since 2015 Bitola has been part of the UNESCO Creative Cities Network and it hosts numerous festivals throughout the year, including a couple of different children's festivals, a folk festival and a festival of film and camera.
Bitola is seated at the base of the Baba mountain, so living here grants you easy access to winter skiing or summer hiking opportunities in the Pelister National Park.
Ohrid
Lake Ohrid, situated on the Albanian border with North Macedonia is the country's top tourist destination. The combination of beautiful scenery and a diverse ecosystem led to the area being declared a UNESCO world heritage site back in 1979. Ohrid town, nestled on the edge of the lake and enjoying views across it is a worthy counterpart to the natural attractions of the area.
In Ohrid, you'll discover fantastic architecture, some of which dates back to the fourth century. You could spend some of your leisure time exploring the churches, ancient settlements and fortifications of Ohrid.
Ohrid may be steeped in history but it certainly isn't trapped by it. Top class restaurants line quaint cobbled streets and you'll be able to shop for all necessities within the town. Ohrid is also one of the few places in landlocked North Macedonia where you can go to the beach! There are several around the lake, some with a reputation as lively locations for parties, others more tranquil.
Veles
Located in the central part of North Macedonia, and situated on the Vardar River, Veles is a city with a population of around 55,000 people and with a reputation as one of the most attractive places in the country to live.
The architecture of the old town displays various cultural influences. The steep hills and winding streets of the old town are especially attractive and as in much of North Macedonia, there is a range of old churches and clock towers to explore and admire.
In the past, the main industries in Veles were silk and porcelain production, in recent years it has become known as a leader in the field of information technology.
If spending at least some of your time communing with nature is important to you, Veles will suit you nicely. There are plenty of opportunities for hiking and camping in the surrounding countryside.
Kumanovo
If ancient history is your thing, you might enjoy living in or around Kumanovo. Like many cities in North Macedonia, it abounds with churches and sites of historical or cultural significance. Alongside the usual medieval or Ottoman period monuments there are also archaeological sites dating back to the neolithic, the bronze age and there's even evidence of a Roman necropolis. Just 30 kilometres from Kumonovo you'll also find the site of a 4,000-year-old megalithic astronomical observatory.
As one of the larger cities in the country, Kumanovo also offers employment possibilities, the costs of living here are at the lower end of the scale for North Macedonia and there are enough restaurants, cafes and bars that you'll always be able to find something to suit your tastes and budget. Good connectivity is another reason to recommend Kumanovo, it's just 20 km from Skopje airport and the main roads from Serbia to Greece and from Bulgaria to Albania passes nearby.
Kumanovo residents rate the nightlife in the city as good and it also hosts several festivals throughout the year, most notably an international jazz festival and a 'Days of comedy' festival.
Other honourable mentions
North Macedonia is full of beautiful cities set in or near stunning countryside. If you're not limited by the need to be near to a place of employment you really are spoilt for choice:
Berovo – A scenic town with charming restaurants and the usual range of monasteries and museums to visit. The town is situated close to a lake and forest so it's especially suited to those who enjoy camping and hiking.
Struga – Lies on the same lake as the better known and busier Ohrid. Struga town is split in two by the Black Drin river and much of the life and commerce of the town stretches along the river banks. The atmosphere has been compared to that of Amsterdam (though without the drugs or red light district!).
Kratovo – If the idea of living in an extinct volcano piques your curiosity, check out Kratovo! This rural town is famed for stone bridges and stone buildings. The picturesque centre and striking surrounding landscape make Kratovo a popular destination for photographers and artists.
Places to avoid
Skopje in winter! Yes, it's unusual to list a place as both a 'best place to live in' and one to avoid but if you do end up living in Skopje you might like to get away from the city for the cold winter months when pollution levels hit their peak. A combination of smoke from houses and emissions from the industry and transport can result in significant levels of smog. Tetovo, North Macedonia's second city also has significant air pollution problems at times.
As with any country, some inner-city areas have higher crime levels than others, so once you've settled on a particular city or town be sure to check out the specific neighbourhood.
Takeaways
North Macedonia is a perfect place to relocate if:
You're fascinated by ancient history and cultures
A nature lover or someone whose hobbies include hiking, camping or generally spending time outdoors
Are attracted to a country with a low cost of living and accept that this leads to local salaries also being low