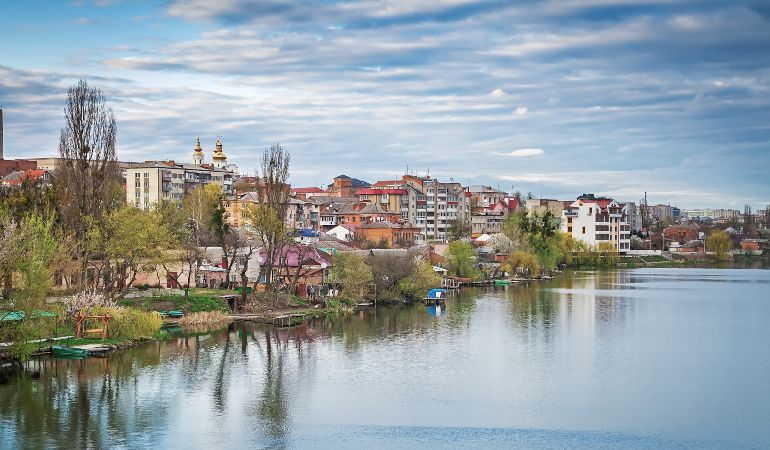 Life in Ukraine is characterised by an inexpensive cost of living, rich culture, multiple historical sights, beautiful outdoor parks and spaces and the local's appreciation for nature. Ukraine is also a very convenient place to live as an expat. It offers easy obtaining of residence permits and facilitated options for setting up a business. There are plenty of unique cities scattered around the country that can suit the taste of anyone. Although some cities bear the scars of recent conflicts and political clashes or still feel the presence of armed groups, most Ukrainian regions are safe and the country can offer overall an excellent quality of life.
Best cities to live in Ukraine
If you are thinking of moving from the UK to Ukraine, here are the top Ukrainian cities you need to consider:
Kharkiv
Some say that there is no perfect place but somehow Kharkiv seems like an exception. Clean streets, numerous parks, good street lighting and developing infrastructure are some of Kharkiv's traits. The city is located in the eastern part of Ukraine which is primarily Russian-speaking. It is the former capital of Ukraine and is emerging as the heart of technology in Eastern Europe with a recent boom of IT job opportunities. Kharkiv boasts a relatively low cost of living compared to other Ukrainian cities, a constantly rising economic influence and a range of large international and emerging Ukrainian companies. It is surprisingly underrated by expats, having in mind that it is a very convenient place to live as a foreigner. The city has a very developed public transportation system, which is also quite inexpensive. There is one of the world's largest squares and some fantastic restaurants, bars and nightclubs. Kharkiv is also the student capital of Ukraine, housing close to one-third of the international students.
Vinnytsia
Another Ukrainian city that can offer a great quality of life is Vinnytsia. Proud of its long history, stunning bank views of the Southern Buh River and many outdoor parks and spaces, the city boasts good ecology and faster development than most Ukrainian cities. Located there is also Europe's largest floating fountain known for its multimedia show and funded by the Rochen chocolate company. Vinnytsia is an important economic, industrial and trade centre of the region, as well as a student city that is home to world-known universities and research institutes and approximately a thousand international students. As a smaller city, not many people speak a good level of English but the locals are quite warm towards foreigners and they appreciate it if you learn a phrase or two in Ukrainian.
Odessa
The pearl of southern Ukraine is Odessa. The port city that has been very important historically, rests on the northern shores of the Black Sea and receives a huge amount of tourists, especially during the summer. Because it is a coastal town, even during the winter, Odessa has a moderate climate, unlike the rest of Ukraine, which can get very cold. Additionally, the city can offer beautiful architecture, good railway connections and fun nightlife. A characteristic trait of Odessa is the very apparent difference between life in the centre and life in the outskirts. That is why the majority of expats prefer to take advantage of the more developed infrastructure and more active social scene in the centre and live there. There is a fair amount of expats present in Odessa and there are also plenty of available vacancies for English teachers. This can be one of the reasons to relocate there if you are a native speaker.
Lviv
Lviv is the cultural capital of the predominantly Ukrainian-speaking western part of the country. This gives it a special charm and differentiates it from the other cities included in this list. The city has been under the rule of numerous empires throughout its long history, which has brought it uniqueness and a very interesting heritage. The influence of the different cultures can be seen in the various types of architecture present in the city. Lviv also has a remarkable central square full of interesting places for eating out or simply grabbing a drink. There is even a famous secret bar that requests a password for entrance. How cool is that, right? Some expats are living in the city and many work as English teachers. Lviv has a number of English language schools and native speakers are always wanted. Moreover, Lviv is close to the Carpathian mountains which can offer exciting activities for mountain enthusiasts.
Kyiv
If you are looking for a lively cosmopolitan city, a wide range of job vacancies and higher than the average salaries, the capital Kyiv is your place. Kyiv is the economic and cultural centre of Ukraine, one of the greenest European capitals, and has not one but two international airports and a very developed public transport that can be seen as quite cheap for Western standards. The metro has 3 lines and easily connects most parts of the city. There are plenty of restaurants offering international cuisine, night clubs and bars for every taste. As a capital, unsurprisingly, there is a higher number of expats. The IT sector is rapidly developing and offering steady career opportunities to locals and foreigners alike. Despite the city's history of conflicts, now it is a safe place, enriched with heritage sites and you can even enjoy a hot air balloon ride over this unique and beautiful city.
Other honourable mentions
Dnipro
Dnipro is a city split by the Dnieper River and enriched with many beautiful bridges connecting its two sides. During the summer, the locals enjoy visiting the beach of the riverbank and sunbathing under the Ukrainian sun. Although it is an industrial city and has been since the past, there are plenty of interesting cultural sights and parks. Dnipro is the largest centre of heavy industry and there are several factories in the city and around it. Dnipro is home mainly to young families and students, both local and foreign and also has some professional sports teams there. The city offers a very low cost of living, but although the city is undergoing infrastructure improvements, there is still room for more.
Kryvyi Rih
Another industrial city and a place worth mentioning is Kryvyi Rih ("Crooked Horn"). It is the largest city in central Ukraine and one of the most populated in the country. It is globally recognised as an important centre of iron-ore mining and metallurgy and the main steel-industry city in Eastern Europe. At the same time, Kryvyi Rih has a thriving cultural scene and is home to several theatres and large performance venues. The nightlife scene is also lively with numerous bars and clubs and restaurants are offering diverse cuisine options.
Mykolayiv
Mykolayiv, also known as Nikolayev, is a major transportation centre and perhaps the main shipbuilding hub on the Black Sea. There are also a number of excellent research institutes specialising in shipbuilding. Aside from the three shipyards, the city is also very green and beautiful, having multiple stunning parks and wide tree-lined streets. In recent years the city's population has been steadily rising.
Cities and places you should avoid
Most cities in Ukraine are calm and safe. Having said that, you should still be cautious to avoid crowd gatherings and poorly lit places. Petty crime is not uncommon. Also, there are areas still affected by war conflicts and it is advisable to avoid them. Those, however, are remote small areas and limited to the southeastern part of the country.
Crimea
Some arbitrary detentions by the occupation authorities can occur. Moreover, because very few countries recognise the Russian control over the region, only limited consular support can be offered to foreigners. That is why it is best to stay away from Crimea. This also goes to transiting through the Sevastopol and Simferopol airports.
Donetsk and Luhansk
The regions of Donetsk and Luhansk are territories of armed conflicts. The security situation there is unstable and there are some ongoing clashes between the Ukrainian and Russian armed groups. Consular services there are also very limited.
Areas in Kyiv
Kyiv is generally calm. However, keep in mind that Maydan Nezalezhnosti (Independence Square) and some government buildings such as Verkhovna Rada (parliament building) and the National Bank of Ukraine are the most frequent areas of protests and demonstrations.
Takeaways
Every Ukrainian city has its own colour and taste. Whether you chose a coastal town on the Black Sea or an inland industrial city, you will be granted a unique experience, enriched by the warm welcoming of the locals, beautiful outdoor spaces and inexpensive cost of living. Even though moving from the UK to Ukraine might seem like a challenge at first, any language barriers or cultural shock will be worth it once you find the right city for you.