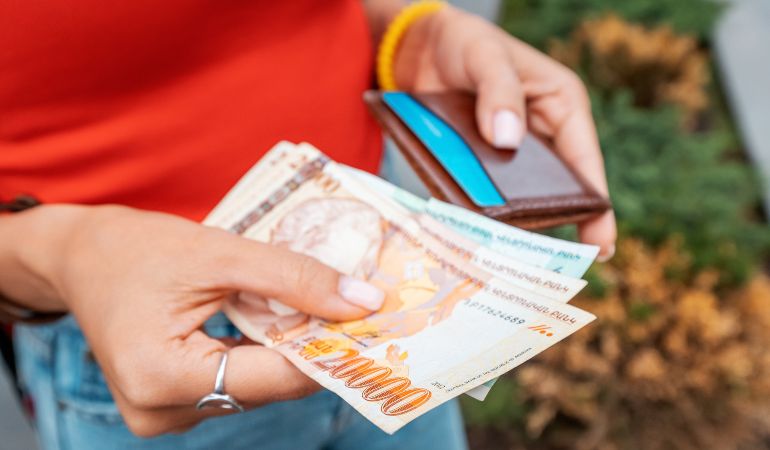 Located in the Armenian Highlands of Western Asia, the Republic of Armenia is a developing country. Its economy primarily involves mineral extraction and industrial output. It is landlocked between Turkey, Georgia, Azerbaijan, and Iran, so maritime trade and beachside tourism are not part of the country's economic portfolio. While Armenia is geographically part of Asia, it mostly aligns itself with the geopolitical views of Europe and is a member not only of Eurasian, but also of European organisations. 
Armenia is a former Soviet Union state and only became independent in 1991. Naturally, the historical political turmoil has made its mark on the country's culture and economy. The main economic sectors are agriculture, mining, energy, tourism, the industrial and services sectors. The country has managed to sustain steady economic progress, which has gained increasing support from international financial institutions and foreign investors. Despite that, however, unemployment remains by and large a major issue around the country, additionally exacerbated by the influx of refugees from the Karabakh area due to the unresolved Nagorno-Karabakh conflict with Azerbaijan.
The currency in Armenia is called Dram (AMD) and due to inflation is roughly equal to 0.0015 GBP. That being said, 1 GBP is equal to approximately 660 Armenian Dram. The average monthly nominal salary is reportedly 206,000.00 AMD, or about 310.00 GBP. The minimum wage was recently increased to 68,000.00 AMD, or 102.00 GBP.
Opening a bank account in Armenia
Opening a bank account allows you to pay and get paid, make a deposit, earn a savings interest, get a credit card and execute many other operations that make day-to-day life easier.
In order to do that in Armenia, you have to physically go to the bank, fill out an application form and provide identification such as a passport or a residence card.
Depending on your nationality and the bank you choose to open an account with, you may be required to provide additional documents (for example, proof of residence in the form of utility bills) on top of the standard documentation. The whole process may take anywhere between 2 days and 2 weeks.
Accommodation Cost in Armenia
Renting a property is not difficult at all, even for expats. You can search for a flat yourself or get a real estate agent to find one for you. Usually, a tenancy agreement is concluded between the tenant and the landlord in writing with official notarization. The contract can be for a fixed length of time or for an indefinite period, subject to agreement from both sides. You might, however, encounter landlords who are not following the legalities of renting out properties in order to avoid paying income taxes from the lease. While this does not put you, as a tenant, at risk, a tenancy agreement provides protection for both you and the landlord from unnecessary headaches down the road.
Much like anywhere else in the world, accommodation costs in Armenia can account for a sizable portion of a person's monthly expenses. According to Numbeo, the average monthly rent for a furnished studio or 1-bedroom flat, depending on the city and neighbourhood, is between 100,000.00 and 190,000.00 AMD, which equals roughly 150 to 290 GBP. If you are looking for a bigger property with more bedrooms, the prices adjust accordingly, of course. The average monthly rent for a 3-bed property ranges between 190,000.00 and 360,000.00 AMD (290 to 550 GBP).
Buying real estate in Armenia will not only provide you with immigration benefits, such as residence or citizenship but is also a sound investment for the future, since properties across the country, especially in larger cities like Yerevan, have appreciated drastically in the last few years. As a foreigner in Armenia, you are allowed to own 100% of the property you are buying. You can acquire, hold, lease or sell your property on an equal basis with the locals. You don't need to have a residence permit or any links to the country in order to purchase real estate. In fact, owning a property in Armenia might make you eligible for a temporary or permanent residence permit.
As a property owner, you are obliged to pay real estate tax on an annual basis. The tax rates are up to 1% of the value of your property. If you choose to rent out your property, the rental income is taxed at 10% or 20%, depending on the total amount.
Cost of Utility Bills
According to the users of Expatistan, the average monthly utility bills, such as heating, gas, water, and electricity range between 23,000.00 and 52,000.00 AMD, which amounts to 35.00 to 80.00 GBP. Internet and TV service are usually provided as a package deal for around 9,000.00 AMD (about 13.00 GBP), but the cost also varies depending on the internet speed and number of TV channels you want.
When it comes to mobile services, you can choose between a prepaid and postpaid SIM card, the latter being more cost-effective for people staying permanently in Armenia. If you don't use your phone to make a lot of calls, then the prepaid option might turn out to be a better deal for you. You can get your plan with just the mobile service or with mobile data and text messaging included.
Transportation expenses
Public transport is almost ridiculously affordable in Armenia. In Yerevan, a bus ride costs a fixed price of only 100 AMD, which is about 0.15 GBP, independent of the distance of your ride. Interestingly enough, there are no tickets and you actually pay the driver when you are getting off the bus.
Getting a cab is also not as expensive as one might think. The normal tariffs for hiring a cab, travelling 1 mile and 1 hour are 600.00, 160.00 and 1,200.00 AMD, respectively. Meaning that a 5-mile, 10-minute ride can cost you only around 1,800.00 AMD, or roughly 3.00 GBP.
With such affordable public transportation, a lot of people might forego buying a car, but if you are someone who cannot live without a personal vehicle, you might want to keep an eye on the price of fuel, since the price per litre in Armenia has recently skyrocketed. Importing your car is also an expensive feat, so it might be better to instead buy a new or used car locally.
Cost of necessities
We can't live without food, clothes, and personal care products, so let's take a look at the prices of some basic necessities, which we just can't live without.
Food costs in Armenia
The table below presents the prices of some essential foods in Armenia. As you can see, even when compared to the average salary, they are still quite affordable. The data was collected and provided from Numbeo.
| Product | Unit | Price in AMD | Price in GBP |
| --- | --- | --- | --- |
| Eggs | 12 pieces | 806.25 | 1.23 |
| Bread | 1 piece | 241.35 | 0.37 |
| Milk | per litre | 452.41 | 0.69 |
| Beer | per litre | 449.54 | 0.68 |
| Chicken | per kg | 2,124.00 | 3.23 |
| Tomatoes | per kg | 581.60 | 0.88 |
| Potatoes | per kg | 230.00 | 0.35 |
| Apples | per kg | 482.69 | 0.73 |
| Bananas | per kg | 652.00 | 0.99 |
Going out to an inexpensive restaurant or a fast food joint usually costs around 2,500.00 AMD (roughly 4.00 GBP), while a 3-course meal at a mid-range restaurant comes up to 14,000.00 AMD, or 22.00 GBP, per person.
Attire and personal care
The prices of clothes and cosmetics vary depending on the product and brand, but on average they are lower than those in the U.K.
In the table below, you can find data provided by Numbeo about the prices of some common clothing categories.
| Item | Price in AMD | Price in GBP |
| --- | --- | --- |
| 1 Pair of Jeans (Levis 501 Or Similar) | 23,331.40 | 35.49 |
| 1 Summer Dress in a Chain Store (Zara, H&M, or similar) | 21,838.46 | 33.22 |
| 1 Pair of Nike Running Shoes (Mid-Range) | 42,352.57 | 64.42 |
| 1 Pair of Men Leather Business Shoes | 38,018.08 | 57.83 |
Conclusion
Armenia is a developing country with a lot of potential for living a good and affordable life. It's a great place for any expat, who wants to try out something new and exciting. If you want to find out more about life in Armenia, take a look here.