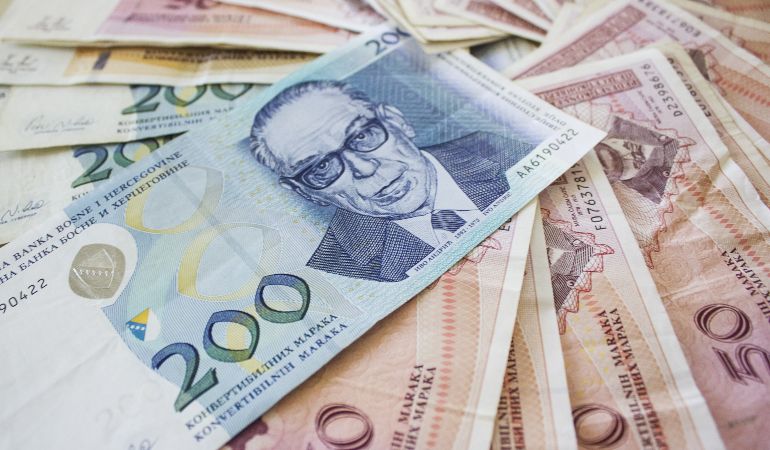 Bosnia and Herzegovina may not seem like the most obvious place to relocate to, but it has much to recommend it. The country has beautiful mountainous scenery with opportunities for skiing, hiking and other outdoor pursuits. While the countryside is a popular tourist destination both for residents of Bosnia and Herzegovina and foreign visitors, most ex-pats live in the capital, Sarajevo which has good transport links to the rest of the world, being served by an international airport. The city offers good living conditions and is rich in culture. Sarajevo is especially noted for hosting around 50 festivals a year, including an international film festival and a theatre festival.
The minimum monthly salary in Bosnia and Herzegovina as of January 2021 is around €265, the average close to €1,200. A social media manager or media sales executive might expect to receive between €1,400 and €1,500, wages in the information technology sector are a little higher, up to around €1,600. As is often the case, salaries in hospitality and tourism are rather lower, restaurant managers might have to settle for less than €1,400, a ski instructor could receive under €1,000 and a fitness trainer as little as €850. While salaries are relatively low when compared to Western Europe, this is offset by reasonable costs of living.
Opening a bank account in Bosnia and Herzegovina
Opening a bank account as a resident of Bosnia and Herzegovina is a relatively simple process. The only documents required are a copy of your passport or ID card and a current residence certificate. It should be possible to complete the application online, but generally speaking, it's much easier to go to the local branch. It's also wise to compare account fees and conditions before opening an account and this is much more easily done in person.
If you don't yet have residency in the country a little more documentation is likely to be required, the copy of your passport will need to be certified and translated into one of the official languages of Bosnia and Herzegovina. You'll also need some kind of proof of your permanent address (utility bill or another bank statement) and your current local address, something like a hotel certificate may suffice for this.
Accommodation costs in Bosnia and Herzegovina
When looking at securing accommodation the first question you need to decide is if you want to rent or buy. The country allows foreigners to own property providing their country of citizenship allows new citizens of Bosnia and Herzegovina to buy real estate there. In practice, most European countries have a reciprocal agreement with Bosnia and Herzegovina and some countries, such as the United Kingdom have no restrictions on individuals of any nationality buying property.
Buying property in Bosnia and Herzegovina
Property prices in the capital, Sarajevo are much lower than in many other cities. An average price of €1,600 per m2 for a city centre apartment or less than €1,000 per m2 in a less central location compares very favourably to the €14,000 or €6,000 you'd pay in London, or even Berlin where you'd expect to pay around €6,500 for a central location and more than €4,000 for something further afield.
Renting property in Bosnia and Herzegovina
Rental costs in Sarajevo are also competitive, a centrally located one-bedroom apartment is likely to cost a little over €250 a month, a larger, three-bedroomed apartment could command a rental of close to €500, move away from the centre and these prices drop to approximately €170 for the smaller apartment or €300 for the more spacious. This is around a quarter of Berlin rental prices or less than 20% of London rates.
Cost of utility bills in Bosnia and Herzegovina
While utility costs in Bosnia and Herzegovina aren't high, they are relatively expensive when taking into account the local lower salaries. Electricity, gas, heating, cooling and garbage taxes are likely to come in at around €130 a month for a three-bedroom apartment, covering the same costs in a one-bedroom apartment is likely to cost a little more or less than €100.
Home internet in Bosnia and Herzegovina will cost you in the region of €15-€20 per month while a minute of prepaid mobile local usage comes in at approximately €0.10. It's easy to buy and top-up local SIM cards. There are always offers and bundles available, these change frequently so it's a case of doing the research when you come to buy.
Do exercise caution when making international calls or using a mobile phone from your home country provider. Bosnia and Herzegovina isn't in the EU, so EU roaming rights don't apply.
Transportation costs in Bosnia and Herzegovina
Bus services in Bosnia and Herzegovina are generally efficient and inexpensive. If you don't have your own transport they're the most common way of moving around the country as trains tend to be old, slow and not always reliable,
Most cities, including the capital, are compact enough for you to do a lot of exploration on foot. When you do need to use local buses the services are frequent and inexpensive. A single fare is likely to set you back around €0.80, a monthly pass costs less than €30. The pick-up fare for a taxi is just €1.00 and the charge per km is €0.60 in normal tariff hours.
If you buy a new car you'll pay around €18,000 for a Volkswagen Golf or something similar. Fuel is inexpensive at a little over €1.00 per litre. To drive on motorways you'll need to pay a toll of around €1.00-€2.00/100 km.
Cost of necessities in Bosnia and Herzegovina
Day-to-day living costs vary widely according to personal tastes and requirements, but however simply or luxuriously you choose to live we all need to put food on the table and clothes on our backs. What are the costs of daily living in Bosnia and Herzegovina?
Grocery shopping
| Product | Unit | Price |
| --- | --- | --- |
| Milk | 1 litre | €0.80 |
| Eggs | 12 | €2.00 |
| Chicken breast | 500 gm | €2.20 |
| Bread | 500 gm loaf | €0.60 |
| Local cheese | 500 gm | €5.20 |
| Apples | 1 kg | €0.90 |
| Tomatoes | 1 kg | €1.10 |
| Potatoes | 1 kg | €0.55 |
| Onions | 1 kg | €0.70 |
| Bottled water | 1.5 litre bottle | €0.60 |
| Domestic beer, bought at the supermarket | 0.5 litres | €0.66 |
| Good quality red table wine from a supermarket | bottle | €7.00 |
A meal at a fast-food joint or lunch at a local cafe is usually just over €4.00, you'll pay around €22.00 for a three-course meal for two in a mid-range restaurant. If you decide to treat yourself to a night out at a more select establishment and share a bottle of wine the bill could be in the region of €35.00
Personal care
| Product | Price |
| --- | --- |
| Shampoo 2-in-1 400 ml | €2.70 |
| Cold medicine for six days | €4.50 |
| 4 rolls of toilet paper | €1.30 |
| A tube of toothpaste | €1.50 |
| A single visit to a private doctor | €22.00 |
Clothing
The difference between clothes bought in the local market or designer labels is, of course, vast. The following examples are mid-range items that you can easily do a cost comparison for, wherever you currently live.
| Product | Price |
| --- | --- |
| A pair of jeans (Levi or similar) | €55.00 |
| A summer dress bought from a high-street chain store | €27.50 |
| A pair of mid-range branded trainers | €67.00 |
Takeaways
Bosnia and Herzegovina offers a good standard of living in the cities and benefits from the beautiful countryside around urban areas
Moving from the UK Bosnia and Herzegovina, getting established in the country, opening a bank account and securing accommodation isn't overly complicated
Wages are lower than European averages but this is mostly offset by lower living costs
Accommodation costs are markedly lower than in most Western European countries
Utilities aren't expensive in absolute terms but may make a dent in your budget if your salary is at the lower end of the scale