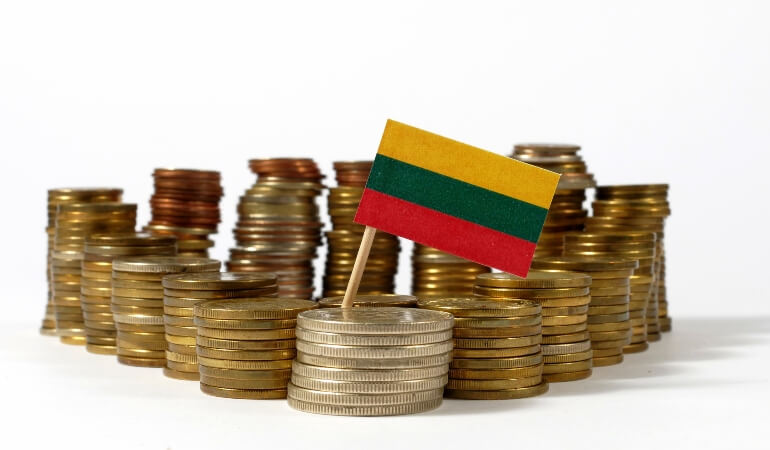 The cost of living in Lithuania is not high, and the country is among the top 10 cheapest countries to live in Europe. Lithuania is also amongst the top 40 countries, in terms of quality of life in the world. The average salary in the capital Vilnius is around 1050€ a month, while the minimum monthly wage is approximately 607€ per month. Furthermore, while the average salary for a waiter is 900 €, a project manager in the technology industry will earn 2500 € on average. So if you move to Lithuania and start a life there, how will the average pay handle your expenses?
Bank accounts
It is possible and relatively easy to open a bank account in Lithuania. There are only two necessary documents you'll be required to provide and they're:
ID or passport
A residence permit, which can also be temporary
In some cases, the bank will require you to fill out different questionnaires, and you'll be asked to share with them why exactly you're opening a bank account in Lithuania and so on. The good news is that you'll find many English speaking staff in banks and that makes the whole process easier. Unfortunately, you can not open a bank account before arriving. Lithuanian banks require you to present to the bank any relevant documents personally. However, if you have a friend in the country, they can open a bank account in your name, but a power of attorney should be presented to the bank officer.
Accommodation cost in Lithuania
Rental prices have been on the increase in Lithuania, especially in the big cities. However, compared to other EU-member countries, rent prices in Lithuania are relatively low, and you can find a nice place to live at an affordable price. Rental prices depend on the city you choose to live in, the size and the condition of the flat and other minor factors, such as the type of heating and agreement duration.
For example, if you want to rent an apartment in one of the three largest cities (Vilnius, Kaunas, Klaipėda), you should expect to pay around 350-450€ per month for a 1- or 2-bedroom flat, while a studio can be 200-400€ per month. In most cases, your landlord will require you to provide a security deposit, which is usually the same amount as your monthly rent and will be paid back to you once your contract has ended.
Living in a shared flat is very common among young people in Lithuania and a good way to save money from utility bills and to make new friends.
If you opt to buy an apartment in Lithuania instead of renting, then we have good news for you! You can easily find a new apartment in an excellent location in every big city at an affordable price. Rates per square metre vary, depending on whether the apartment is renovated or not and might look something like this:
Price per square metre in the city centre – 2,847.67 €
Price per square metre outside the centre – 1,761.74 €
Cost of utility bills
Utilities in Lithuania are also affordable. Gas, electricity and heating costs will be no more than 200€ per month. The Internet in Lithuania is remarkably fast and rather cheap in comparison to other EU countries.
See below some of the utility costs that you may need to budget for every month:
| Type of Product | Price |
| --- | --- |
| Electricity, heating and cooling, water supply, waste removal services | 125.27 € |
| 1 min. of prepaid mobile tariff | 0.11 € |
| Internet | 10.55 € |
Transportation expenses
Lithuanian public transportation is well organised and cheap, especially for students. Bus tickets can be bought in bus stations, online or from the news kiosk. Lithuanians travel mainly by bus and trolleybus since taxis can be pricey. According to some cost estimations, the average person spends no more than 30€ on public transport, while the cost for students is around 6€.
| Type of Product | Price |
| --- | --- |
| One-way Ticket (Local Transport) | 1.00 € |
| Monthly Pass (Regular Price) | 29.00 € |
| Taxi Start (Normal Tariff) | 1.00 € |
| Taxi 1km (Normal Tariff) | 0.60 € |
| Taxi 1 hour Waiting (Normal Tariff) | 9.50 € |
| Petrol (1 litre) | 1.16 € |
Cost of necessities
Lithuania is a nice country to live in, and the wages tend to increase with about 6% per year since the country has joined the EU. However, despite the salary growth, all necessity prices are rising to euro-zone levels, which is a big problem for Lithuanians.
Food costs in Lithuania
Although prices are rising rapidly, the average person can eat reasonably well in Lithuania. You can find a wide range of ingredients, veggies and fruits to cook delicious food. Here is a an example of what food items may cost:
| Type of Product | Unit | Price in € | Price in £ |
| --- | --- | --- | --- |
| Eggs | 12 | 1.46 € | 1.26 £ |
| Bread | 500g | 0.83 € | 0.72 £ |
| Milk | 1 Litre | 0.87 € | 0.75 £ |
| Beer | 0.5 Litre bottle | 1.11 € | 0.96 £ |
| Chicken | 1kg | 4.67 € | 4.02 £ |
| Tomatoes | 1kg | 1.44 € | 1.24 £ |
| Potatoes | 1kg | 0.39 € | 0.33 £ |
| Apples | 1kg | 0.96 € | 0.83 £ |
| Bananas | 1kg | 1.00 € | 0.86 £ |
You can dine out in all kinds of restaurants in Lithuania, but note that this can be relatively expensive. If you want to save money, you can visit an inexpensive restaurant and that will cost you around 7 € only for the meal.
Clothing, personal care products and recreation
Going to the gym or the cinema is an affordable pleasure in Lithuania. A gym membership, for example, will cost you around 27.50 € per month, while cinema tickets are 7.00 €. In addition, clothing can cost a lot in Lithuania or as much as similar products would cost in wealthier European countries. Here are some examples of what certain types of clothes may cost you:
| Type of Product | Price |
| --- | --- |
| Pair of Jeans (Levis 501 Or Similar) | 63.06 € |
| Summer Dress in a Chain Store | 32.37 € |
| Pair of Nike Running Shoes | 74.38 € |
| Pair of Men Leather Business Shoes | 89.61 € |
Takeaways
In conclusion, as you can see, relocating to Lithuania from the UK is worth considering, especially if you are the adventurous type, who wants to try something new and is not afraid of language barriers and different cultures. The country has a lot to offer and is very affordable to live in. after all. And if you need professional assistance with your international move, you can always count on the expertise of Fantastic Removals anytime. We work with experienced moving experts, who will ensure that you get to your destination in a stress-free fashion.