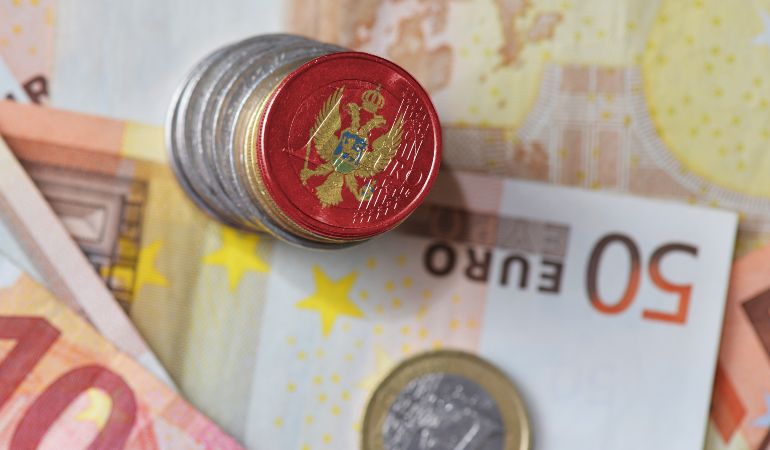 Montenegro is one of the hidden jewels of Europe. It rarely features on English-language news channels.
But with over 33 km of beautiful coastline along the Adriatic Sea, flamingos, and one of the lowest tax rates of any country in Europe – 9% on income, capital gains, and corporate tax – it's proving to be a very attractive new home for many people looking for an exciting place to live.
The cost of living in Montenegro is about 43% cheaper than in the UK. The cost of rent, about 63% cheaper. The average monthly salary for a single person is around €500.
That adds up to a pretty enticing lifestyle choice for increasing numbers of expats. When it comes to employment opportunities, in addition to staff serving the seasonal tourist industry, home maintenance professionals are in high demand in this, one of the youngest countries in Europe.
How to open a bank account in Montenegro
Setting up a bank account in Montenegro as an expat used to be very easy. Before 2018, all you really needed was a passport. Armed with that, you could walk into any bank in the country and have an account minutes later. Sometimes, you didn't even need to walk into the bank.
Today, the story is a little different. These days, you will almost always have to be physically present in the bank you are trying to open an account in. You will also have to show some evidence of a tie to Montenegro. This could be evidence of a property you've bought or a business you are starting up.
The documents you will usually need to open a bank account in Montenegro include:
A copy of your passport or international ID card
Proof of your current residential address
Bank statements covering the past 6-12 months
Documents that show the source of your income
An English-language CV with your contact details, including details of any businesses you own
Opening a bank account can sometimes still be done before your arrival in the country. In this case, you will likely need to present your original passport.
Accommodation costs in Montenegro
Renting or buying property in Montenegro as a foreigner is very easy. Though some regions – particularly some coastal cities such as Tivat – have high-priced areas, most of the country has a very competitive property market.
Renting in Montenegro
Renting accommodation in Montenegro can be very affordable. Like all countries though, city-centre living – especially in the capital, Podgorica – can start to climb in price.
Monthly rent for a 1-bedroom apartment in an averagely priced area might start from around €200 per month outside of a city centre. This might grow to around €320 for a city centre apartment. For a 3-bedroom apartment in a city centre or expensive area, you might expect to pay up to €550 per month.
Buying in Montenegro
As you might expect, the prices for buying property vary by area. There are some very well-to-do coastal areas that see property prices in the millions of euros. Though the most you might expect to pay for most properties is around €1500 per square foot even in the city centre of Podgorica.
But there aren't any restrictions stopping a foreigner from buying property here. You can buy a property through real estate agents or privately, though it makes sense to find a reliable law firm to make sure you are ticking all the right boxes either way.
Yet with such a wealth of beautiful cities available – Kotor and Budva being prominent among them and always experiencing high demand for home maintenance and other professionals because of the tourist trade – you will have your choice of attractive options if you want to buy land or property in Montenegro.
Cost of utility bills in Montenegro
The average cost of utility bills in Montenegro for one person is around €55. For a larger apartment or two people, this might go up to around €80-95 for all bills including electricity, gas, and water.
An Internet connection costs around €20-25 per month.
Transportation expenses in Montenegro
A litre of petrol costs around €1.28 in Montenegro. The roads aren't always in great condition, especially in the more rural areas. But vehicle tax is usually negligible.
Public transport is also very affordable. Local transport can cost as little as €0.90 for a single ticket. A monthly pass might clock in at €23-28.
Cost of necessities in Montenegro
The cost of living in Montenegro is quite a lot less than in most other European countries. The average amount it would take to support a single person or family living in the country is around half that of most other places you might choose to live in Europe.
Here is some idea of the costs of some of the most important necessities:
Food costs in Montenegro

An average loaf of bread costs around €0.50 in most places and only a few cents more in the capital. Other essentials, such as a litre of milk, would set you back around €0.80. A dozen eggs usually cost around €1.50.

If you enjoy eating out, Montenegro is known for its sea fish. But the local cuisine incorporates aspects of both east and west, varying depending on which part of the country you are in. A meal in an inexpensive restaurant can often cost as little as €5. Dinner for two, including three courses at an average restaurant, can usually be bought for €25. Of course, this depends on the area and your choice of restaurant.

Attire and personal care

Depending on your preferred brands and the part of the country you are in, you can expect to pay around €3 for a bottle of shampoo or deodorant. Toothpaste is usually around €2 and a 4-pack of toilet paper costs in the region of €1.70.

When it comes to clothes, you might expect to pay less than €60 for an expensive pair of branded jeans. An averagely priced summer dress from a high street store might set you back less than €30. Branded trainers or sneakers can cost around €70 and professional shoes perhaps €80 on upwards.
Takeaways
Montenegro offers a low cost of living and beneficial tax rates
There is a high demand for home services professionals
Opening a bank account usually requires your presence and several important documents
Buying or renting property as a foreigner is easy and cost-effective
Food is very affordable and other necessities are competitively priced