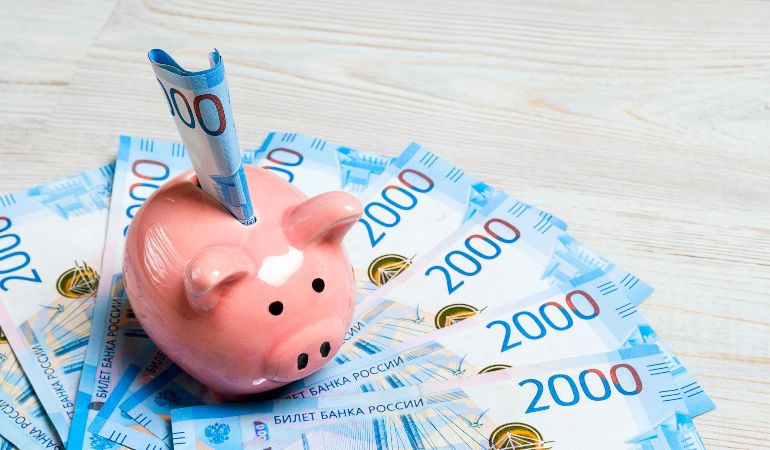 Russia offers a very low cost of living, though this mainly depends on the city and your lifestyle, great opportunities to start a career and salaries that have gone up in the last years. The capital Moscow and Saint-Petersburg are the most expensive cities to live in but they are also totally worth it for their rich heritage and exciting cultural life.
Here are some facts about the country to keep in mind when considering whether to relocate to Russia:
Currency: Russian ruble (RUB)
Symbol: ₽
Exchange rate to pound: 1 RUB = 0.01 GBP
Minimum wage: 12,792 RUB / 127.92 GBP
Average wage: 58,782 RUB / 587.83 GBP
How to open a bank account in Russia
If you decide on moving to Russia, eventually you will need to open a bank account. The good news is that the banking system of Russia has undergone some significant developments in recent years. The country is now more open to foreign investments, there is the possibility of opening a bank account remotely and versatile choice of banks. You can open an account not only in rubles but also in pounds, euros, dollars and franks.
Can I set up a bank account as a non-resident?
Most banks ask for a residence permit in order to set up any type of bank account, however, some banks will do an exception and allow non-residents to open accounts in Russia. If you are an expat, your employer may apply for a basic account on your behalf but you still will need to show a document proving registration at a Russian address.
Can I set up a bank account from abroad?
As already mentioned, Russian banks offer the online option of opening a bank account. Even though most accounts are opened when visiting a physical branch, the major banks in Russia also have online application systems that will allow you to set up your bank account before you have even arrived in Russia. Check with your bank of choice to see whether it can offer you this perk and what are the full conditions.
What documents do I need to open a bank account in Russia?
The process of setting up an account can be quick and smooth once you have the following documents:
Valid passport
Proof of address
Application form issued by the bank
Evidence of employment (required by some banks)
Accommodation Cost in Russia
Though accommodation costs in major cities around Russia may be hard on the budget, most expats can easily live a comfortable life as the country is generally less expensive than most Western countries, especially if you prefer life outside the city centre. Looking for a new home in Russia can be a difficult process. You can always contact an agent to help you find a place to rent or buy. However, you will need to have a good spoken level of Russian or have a Russian friend to bring with you.
Rents
To find a place to rent you can contact an agent to help you but using their services comes with a fee, usually half a monthly rent or less. Still, the help of an agent will prove useful as they can arrange multiple visits to apartments and easily find the perfect place for you. However, if you prefer to find a place on your own, there are plenty of property dedicated websites that can do just fine.
Here are some examples of the average rent you can expect to pay per month in Russia:
| Property | Price in RUB | Price in GBP |
| --- | --- | --- |
| 1-bedroom apartment (city centre) | 1-bedroom apartment (outside the city centre) | 3-bedroom apartment (city centre) |
| 1-bedroom apartment (outside the city centre) | ₽20,000-22,500 | £200-225 |
| 3-bedroom apartment (city centre) | ₽66,000-70,500 | £660-705 |
| 3-bedroom apartment (outside the city centre) | ₽37,500-39,000 | £375-390 |
Buying
Another option is buying a property. The average price per square meter in Moscow is 177,000 rubles (£1,766) while in St. Petersburg it is around 115,000 rubles (£1,148). In other cities, you can expect the prices to be much lower.
Cost of Utility Bills
Tenants in Russia are required to pay for their utility costs each month but those are not too expensive. During the colder months, centralised heating is offered but some chose to buy an external heater to secure more warmth. Paying your monthly bills in Russia is made convenient as you can do that at a post office or bank, online, through ATMs or instant payment machines.
Here are the average utility costs you can expect for a month in Russia:
| Service | Price in RUB | Price in GBP |
| --- | --- | --- |
| Basic utility (electricity, heating, water…) for 85m2 flat | ₽7,373 | £73.59 |
| Standart mobile phone plan | ₽300-400 | £3-4 |
| Internet | ₽350-500 | £3.49-5.00 |
Transportation expenses
Russia is a country with a vast territory. There are 11 time zones so you can imagine how much travelling you will need to do if you would want to get from one part of the country to another, however, at the same time, travelling across the country can open various stunning landscape views. To travel between cities and villages, using the railway will be a good option as this mode of transportation is well connected and affordable.
To travel within the cities or to close-by towns, use the bus as it is the most popular public transport because of its efficiency. There are regular busses where you scan your pass or pay the conductor and micro-buses where you pay directly the driver (cash only). For commuters, it is advisable to purchase local monthly passes as those combine few means of transport, though public transport in Russia is surprisingly cheap. A ride with the metro in the larger cities will cost you 40 rubles (£0.40). That is the most expensive transport in Russia. Moreover, many Moscow locals use the Troika transport card, which can be topped up and used for all public transport in Moscow, even for bike rental.
Cost of necessities
The cost of necessities in Russia highly depends on the personal lifestyle. Food and personal care products in the country are considered relatively inexpensive, though attire can be costly. To find more about this chunk of monthly expenditure, keep on reading! We have gathered some price examples to help you prepare.
Food costs in Russia
There are plenty of affordable supermarkets around Russia, however, during the winter months the diversity of fruits and vegetables can be limited and the imported products that can be found will be high-priced.
Below you can find some examples of the average prices of common groceries:
| Product | Unit | Price in RUB | Price in GBP |
| --- | --- | --- | --- |
| Milk | 1 Litre | ₽65.57 | £0.66 |
| Eggs | 12 | ₽93.60 | £0.94 |
| Loaf of bread | 0.5kg | ₽34.29 | £0.34 |
| Chicken | 1kg | ₽284.64 | £2.85 |
| Cheese | 1kg | ₽643.06 | £6.43 |
| Rice | 1kg | ₽83.27 | £0.83 |
| Apples | 1kg | ₽103.33 | £1.03 |
| Tomatoes | 1kg | ₽143.17 | £1.43 |
| Potatoes | 1kg | ₽40.59 | £0.41 |
| Domestic beer | 0.5l bottle | ₽66.67 | £0.67 |
| Wine (mid0range) | Standart bottle | ₽518.50 | £5.19 |
| Water | 1.5l bottle | ₽39 | £0.39 |
| Cigarettes (Marlboro) | Pack of 20 | ₽169 | £1.69 |
The great thing about living in Russia is that you can find there numerous restaurants offering you a taste of Russian, Ukrainian or Caucasian cuisine. A meal at an inexpensive restaurant can cost you around 500 rubles (£4.99) and a three-course dinner for two in a mid-range restaurant can go up to 2,500 rubles (£24.95). If you are used to grabbing a cup of cappuccino on your way to work, prepare 155 rubles (£1.55), while a cocktail for a night out with friends will cost you 395 rubles (3.94).
Attire and personal care
Shopping for clothing in Russia can be costly and prices have been steadily rising in the past few years. Still, it is possible to find some affordable products of good quality. Here are some prices of common attire items:
| Product | Price in RUB | Price in GBP |
| --- | --- | --- |
| 1 Pair of jeans (Levis 501 or similar) | ₽5,141 | £51.31 |
| 1 Summer dress in a chain store (Zara, H&M, …) | ₽2,871 | £28.65 |
| 1 Pair of Nike running shoes (mid-range) | ₽5,773 | £57.62 |
| 1 Pair of men's leather business shoes | ₽6,860 | £68.46 |
Takeaways
Russia boasts an affordable cost of living for expats.
Opening a bank account from abroad is made possible by online applications and some banks even offer accounts for non-residents.
There are plenty of decent accommodation opportunities but prepare for higher prices in Moscow and Saint Petersburg.
Paying utility bills is inexpensive and convenient.
The public transport is cheap and well organised with a variety of discount passes.
Shopping for Western attire brands in Russia is expensive, unlike grocery shopping which can be very affordable there.