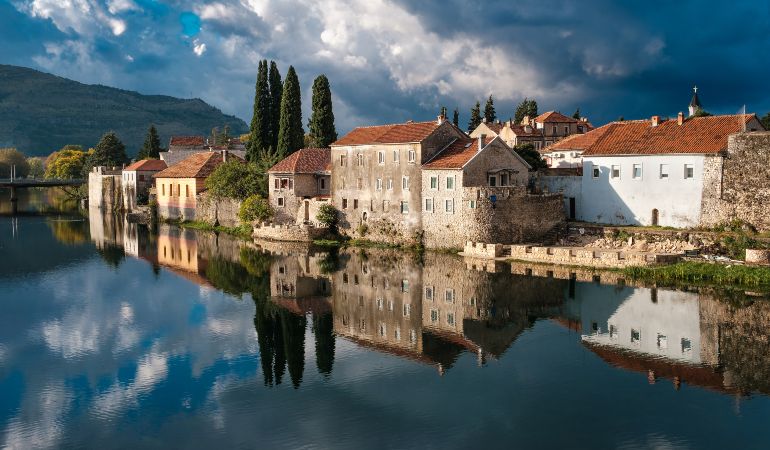 Capital City: Sarajevo
Population: 3.301 million
Official language: Bosnian, Serbian, Croatian
Commonly spoken languages: Bosnian, Serbian, Croatian
Currency: Convertible mark (BAM)
Exchange rate to pound: 0.44:1 (30.08.2021)
Bosnia and Herzegovina is a Balkan country rich in natural beauty and cultural heritage, located on the Adriatic Sea and surrounded by Croatia, Serbia, and Montenegro. Although the country has suffered a tragic military past, today Bosnia and Herzegovina is a place full of potential. From quality education, vibrant cultural life, welcoming locals and relatively low cost of living, the country has a lot to offer.
Where to live in Bosnia and Herzegovina
The Bosnian region in the north is mostly covered by mountains and dense forests making it ideal for hiking enthusiasts. On the other hand, the Herzegovina region in the south is covered by flat agricultural land. There is also the capital city Sarajevo, where the majority of British expats are living. Additionally, if you are an art and heritage lover, then you would most definitely want to give a chance to this city full of beautiful sceneries and cultural life, where many events and festivals are being held annually.
Another important city to mention is Banja Luka, which lies along the Vrbas River. It is the second-largest city in the country and serves as the capital of Republika Srpska (Bosnian Serb Republic). Is considered the economic and cultural centre of the region. The city has road connections with Sarajevo, Jajce (a heritage town and ancient capital of the Bosnian kings) and Zagreb (Croatia).
How to become a resident of Bosnia and Herzegovina
Are you planning on visiting friends or family in Bosnia-Herzegovina or are you shortly moving for business-related reasons? The good news is that you are not required to get a visa. If your stay does not extend the allowed period of 90-days, then you can travel with your passport. Once you enter the country, you have 72 hours to register with the local police office. However, if you are moving permanently you will need a visa and acquiring one can be a weary process.
As the country is currently on the path of becoming a European Union member, it has adopted a visa policy similar to EU countries. This means that you need to apply for a temporary residence permit that will allow you to live in the country for up to 12 months with the potential to request an extension. Temporary residence permits can be granted on the grounds of:
Work
Education
Health treatment
Marriage/family reunification
Real estate ownership
To obtain this permit, you must submit an application at least 15 days before the end of your 90-days visa-free stay. You can do that from your local office of the Service for Foreigners' Affairs. Once you have lived in the country for at least 5 years you can apply for a permanent residence permit.
The set of documents you will need when moving to Bosnia and Herzegovina should include:
Passport (with a minimum validity of 3 months)
Police Certificate (issued by your local police)
A document specifying the need for residence (employment contract, university acceptance letter, marriage certificate, etc.)
Working in Bosnia and Herzegovina
Most of the British expats in Bosnia-Herzegovina work for NGOs and international organisations. Considering the highly-educated workforce of the country, entrepreneurs and investors are starting to look at the country as an attractive destination for opening a business, primarily related to technology and computing. Unfortunately, the country has a relatively high unemployment rate and low average wages so it is better to arm yourself with determination and flexibility. Bosnia-Herzegovina is highly dependent on the agricultural industry, however, healthcare, business and technology are striving to improve and more opportunities in those sectors are seen to open.
To begin work in Bosnia-Herzegovina you will require two things: a temporary residence permit and a work visa. A work visa is obtained through your employer, who will apply on your behalf. For that, he/she will need a valid passport and a graduation certificate, translated into one of the official local languages. The visa lasts 12 months and after the end of this period, you can re-apply.
Transportation in Bosnia and Herzegovina
The public transport in Bosnia and Herzegovina is reliable and affordable but sometimes there can be slight delays so keep that in mind when planning your travelling. Moreover, official taxis across the country are well-regulated but be careful to not use unlicensed taxis. During the winter months, especially in December and January, the airport in Sarajevo is prone to fog. When planning your winter trips and travels, keep in mind that this can cause delays and cancelled flights. Major routes are safe to travel but there are still some landmines that remain since the war. Thus, it is highly advisable to stick to the main routes and don't stray from official roads or pathways.
Driving your own car in Bosnia and Herzegovina
Driving your own car in Bosnia-Herzegovina or one hired from outside the country is possible using your UK driving licence for up to 90-days. After this period you will have to apply for a local driving licence. When you submit your application, the Bosnian authorities will retain your UK driving permit. However, if you wish to hire a car in Bosnia or drive someone's car you will need an international driving permit (IDP), the cost of which is £5.50. The type of IDP you will need is 1968 and you are required to obtain it before leaving the UK. To cross the border and enter the country you will also need valid insurance, your vehicle registration and ownership papers. The conditions during the cold months can quickly aggravate and you are required to be equipped with winter tyres and snow chains between 15 November and 15 April.
Education in Bosnia and Herzegovina
The education in Bosnia and Herzegovina is of good quality and is one of the oldest in the region. Children are enrolled in primary school (Osnovna škola) at the age of 6. Education is compulsory for all children until the age of 15 and is free of charge. Secondary school is also free and lasts 3-4 years. There are two types: general and technical secondary schools. If you are moving from the UK with children and you don't speak the local language, Sarajevo will be the most suitable option as the country doesn't have many international schools and the few that do exist are mostly located in the capital.
Being a student in Bosnia and Herzegovina
Bosnia and Herzegovina's higher education consists of 8 public universities, 37 private institutions and some 90 higher education establishments and art academies that are also authorised to grant university degrees. The universities have to offer modern facilities, active and vibrant campus life and good conditions for foreign students who are always welcomed to apply. However, to study in Bosnia-Herzegovina for longer than 3 months, you will need a student visa. This will secure you a year of stay in the country, with the possibility of requesting an extension. To apply for a visa, you will first need to provide an acceptance letter. Student life in the country is considered inexpensive, especially compared to student life in the UK. Most students live in dormitories or nearby flats as off-campus life can be a little more expensive.
Healthcare in Bosnia and Herzegovina
Compared to Western European countries, Bosnia-Herzegovina has a relatively low healthcare standard. That is partly due to the shortage of medical staff the country is experiencing. However, there are some good private hospitals. It is important to note that the GIHC and EHIC do not cover Bosnia and Herzegovina and health insurance is required for living in the country and requesting a residence permit. Therefore, it is advisable to invest in good health insurance with broad coverage. You can do that with the main local insurers: ADRIATIC osiguranje and UNIQA osiguranje. A pharmacy in Bosnia-Herzegovina is called "apoteka" and it is marked with a green cross. There are numerous in towns and cities around the country, however, some prescriptions issued in the UK might not be recognised, in which case you will need a prescription from a local doctor.
Takeaways
Once you have passed through the bureaucratic work of arranging everything for your move, you will see that it was all worth it. While there are still signs remaining of the past war, the country is modern and developing. Though not a traditional expats destination, Bosnia and Herzegovina definitely can offer you a unique experience. If you still have questions after reading this article, feel free to contact us and we will make sure to take the stress of moving abroad off your shoulders.