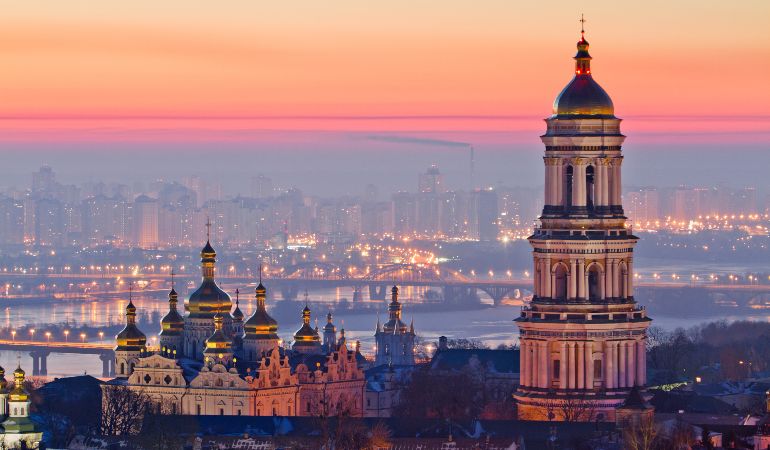 Capital City: Kyiv(or Kiev)
Population: 44.39 million
Official language: Ukrainian
Commonly spoken languages: Russian, Crimean Tatar, Moldavian, Hungarian, Romanian, Bulgarian, Belarusian, Armenian, Gagauz, Romani, Polish, German, Greek, Hebrew, Slovak, Karaim
Currency: Ukrainian hryvnia
Exchange rate to pound: 1: 0.027
As the largest country in Europe, Ukraine borders Russia in the east and Poland in the west. Meanwhile, the Black Sea runs along its southern border. Being about three times the size of the UK, it's followed in size only by France in Europe. It's a country with a lot of natural beauty. From the Carpathian mountains with 55 km of slopes to beaches, it also offers vibrant cities in the form of Kyiv and Lviv. If you're someone who likes culture, heritage and natural beauty, you'll also enjoy the fact that Ukraine is home to seven UNESCO World Heritage Sites. One of these is Kyiv's Saint-Sophia Cathedral and Lviv's historic centre, Chernivtsi University, wooden churches in the Carpathians and the beech forests that surround these mountains. Looking for a summer break? Then the beaches of the Black Sea coast could be your best bet in the summer in or near the city of Odesa. It offers a handful of beaches, nightclubs and restaurants. But if you're looking for something much drier than the sea, you will also find Europe's largest desert in Ukraine's south – Oleshky Sands. It is the largest expanse of sand in Europe. You can also find many gypsum caves in Ukrainian Podila. Meanwhile, the Askania Nova Steppes Reserve is the oldest steppe reserve in the world and is home to 500 kinds of plants and 3,000 animal species. As for infrastructure and history, Ukraine is home to 5,000 castles, although many are now in ruins.
Where to live in Ukraine
Kharkiv
Kharkiv is the largest city in the country and offers clean streets with good lighting. As the student capital of Ukraine, it also has a developing infrastructure. Visitors often enjoy walking along the 750-metre long squares to enjoy the music fountains and cathedrals.
Vinnytsia
A relatively unknown town, this city offers high-quality municipal services as well as good ecology. It offers a light and music fountain show, picturesque banks of the Southern Bug River in addition to other pretty and noteworthy sights.
Kyiv
The capital is called the greenest capital of Europe with thematic Kyiv Parks walking tours. Two of the Seven Wonders of Ukraine are also located in this city. You can also enjoy the sights of Historical Kyiv, visit the Cossack settlement Mamaeva Sloboda, go for a hot air balloon ride or take a look at some of the tiniest things in the Microminiatures Museum.
Lviv
The cultural and festival capital of Ukraine saw 2.6 million tourists visiting it in 2017. And for good reason too. It's attractive to investors, has a well-developed infrastructure and has a solid tourism reputation. The beautiful palaces and castles of Lviv as well as food and drink make this an attractive destination.
Odesa
Located in the south along the Black Sea coast, it is known for its beautiful architecture. Offering great sightseeing opportunities in addition to the perfect beach holiday, you can also see the Odesa Catacombs there.
How to become a resident in Ukraine
Prior to your arrival in Ukraine, you need to get a type "D" visa from a Ukrainian embassy or consulate. Then within five days of your arrival, you need to apply for a permanent residence permit. This is a legal requirement for all non-Ukrainian citizens who aim to reside in Ukraine. A permanent resident card is required if you want to stay in the country for over 90 days. The validity of a temporary residence permit is up to three years.
In order to obtain residency in Ukraine, you first need to apply for a taxpayer identification number. You will also need to have a permanent address there as this will be required for your registration. Your permanent residence application needs to include your:
Full names
Address of residence
Reasons for your application
Two photos
Insurance
Your permanent resident card in Ukraine can be used to acquire property, open a bank account, civil relations, marriage and other aspects.
Working in Ukraine
An emerging, free-market economy, Ukraine experienced economic success from 2000 until 2008 when the global economic crisis hit. The country has a mixed economic system. This means that there is limited private freedom together with centralised economic planning and government regulation.
Some of the main areas of production that the country is well-known for are grain, steel and sunflower oil. However, Ukraine's reputation internationally has been growing owing to great achievements in information technology, high fashion, aviation, architecture and design.
Check also:
Transportation in Ukraine
Ukraine's public transport system is well-developed as every large city and regional centre is connected to the railway network. Most cities also offer an affordable and efficient bus and transport service, which costs around 8UAH. To access airports, you can rely on public transport and service buses, or taxis which would cost about 7UAH per km. There's also an express train from the railway station in order to reach Kyiv Boryspil Airport. An interesting fact is that Arsenalna, which runs along Kyiv's Sviatoshynsko-Brovarska train line, is the world's deepest metro station and can be found at 105.5 metres below the ground.
Driving your own car in Ukraine
In order to drive legally in Ukraine, you need to have a valid International Driving Permit (IDP) in addition to your UK driving licence. The 1968 permit is required to drive in Ukraine as the 1949 permits previously issued by the UK may no longer be accepted. Your IDP can be obtained over the counter from any of the 2,500 UK post offices.
Education in Ukraine
It is only since 2018 that Ukrainian school education was extended from 11 to 12 years. The education cycle includes four years of elementary education, five years of middle school education, and three years of upper secondary (specialised) education. Education is provided for free at public schools and is compulsory until grade 12. However, students who began their studies under the old system are able to leave school after 11 years.
Elementary education begins at six years old and is four years long. Children's admission to schools is based on their place of residence. No separate entrance examinations are held.
Basic secondary education or middle school lasts for five years (from grades five to nine) and is open to all pupils who successfully completed elementary education. Assessment is based on examinations and at the end of ninth grade, students sit for final state exams. Those graduates of basic secondary education are then able to enrol in upper-secondary school for a period of three years (grades 9 to 12). The standardised tests after secondary education are used for university admissions (see below).
Private education is only a small fraction of the Ukrainian school system.
Technical and Vocational Education and Training (TVET) programmes are offered at both the secondary and post-secondary level, although their prominence has declined over recent years.
Being a student in Ukraine
Ukraine is home to 76,548 international students from 155 countries. Around 90.02% of students study towards Bachelor's and Master's degrees, while the rest study towards preparatory courses, postgraduate education, doctoral studies and academic mobility.
The top countries of international student origins are India, Morocco, Turkmenistan, Azerbaijan, Nigeria, China, Turkey, Egypt, Israel and Uzbekistan.
The top universities in the country are:
V.N. Karazin Kharkiv National University
Kharkiv National Medical University
Bogomolets National Medical University
Odesa National Medical University
Zaporizhzhia State Medical University
National Pirogov Memorial Medical University, Vinnytsia
Dnipro State Medical University
I.Horbachevsky Ternopil State Medical University
Bukovinian State Medical University
Taras Shevchenko National University of Kyiv
Healthcare in Ukraine
The Ministry of Healthcare implements the state policy in Ukraine related to the field of medicine and healthcare. The healthcare system is part of a universal system that is a successor of Soviet healthcare. Both expats and students are required to have a medical insurance policy while residing in the country. Although healthcare in the country is said to be free, there is no universal healthcare system in place.
Takeaways
Ukraine holds great natural and historical treasures. The country features everything from gorgeous beaches, phenomenal forests to UNESCO World Heritage Sites. Ukraine offers a list of beautiful cities where you can start your new life. Regardless of where in the country you choose to live you will have an easy time going around thanks to the well arranged transport system. Don't hesitate to make the big step of making Ukraine your new home and rely on the professionals to ensure a smooth relocation abroad for you!